IBC 2019: Quantum to showcase expanded storage portfolio for media workflows
At IBC2019, Quantum (stand 7.B07) will present the company's expanded product portfolio, highlighting the accelerated pace of innovation that has been key to the company's transformation. Visitors will see the latest developments in StorNext, Quantum's award-winning file system, F-Series NVMe storage arrays for high performance video editing and rendering, and R-Series removable storage systems designed for mobile and remote video storage and transportation. Executives will also be available to discuss Quantum Distributed Cloud Services and Cloud-Based Analytics Software, a recently announced new line of services and storage-as-a-service offerings.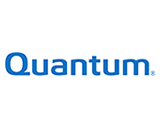 "This has been a year of transformation and an accelerated pace of innovation for Quantum," said Jamie Lerner, Quantum President and CEO. "As the media industry produces more high-resolution, high frame-rate content, significant demands are being placed on the underlying storage infrastructure supporting these workflows. At IBC, visitors will see a more product- and technology-focused Quantum building on our leadership in both high-speed processing and long-term archiving of video and image content. We're better positioned than ever before to serve our media and entertainment customers' growing needs to process, analyze and manage their video content across the workflow."
Expanded Portfolio on Display
Quantum will showcase its significantly expanded product portfolio designed for end-to-end media workflows:
Making its European debut is Quantum's award-winning F-Series, an ultra-fast, highly available NVMe storage array for editing, rendering, and processing video content and other large unstructured datasets. F-Series uses NVMe flash drives for reads and writes up to 5X faster than traditional flash-storage/networking systems, delivering quick real-time editing and rendering of 4K and 8K video.
The latest version of Quantum's award-winning StorNext file system and the latest series of StorNext appliances feature completely redesigned appliance hardware with 2X faster performance, editing and coloring of 8K content in real-time, new predictive data movement and analytics capabilities, new ways to integrate with cloud, and a simplified user experience.
Quantum's R-Series is a ruggedized, removable storage system designed for mobile and remote video storage, making it ideal for transporting content between on-set production and studios.
Distributed Cloud Services and Cloud-Based Analytics Software are a new line of services and storage-as-a-software offerings. Using the Cloud-Based Analytics software, users or Quantum's own support team can manage and monitor environments worldwide from one central location.