IBC 2019: Red Bee Media provides live closed captioning on IBC TV
Red Bee Media (stand 14.D26) is providing live closed captions on IBC TV throughout IBC 2019 in Amsterdam, ensuring full accessibility of all content being broadcast and streamed from the show. With a plug-and-play cloud platform for remote delivery, Red Bee will deliver the captions from its English Language Hubs, directly to the screens at IBC. This solution, including live webcam feeds of the captions being produced, will be showcased together with other innovative Access Services, on the Red Bee stand.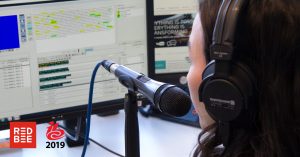 "Red Bee is able to deliver high-quality captioning from any location, to anywhere in the world using our global, cloud-based captioning platform and we are excited to get the opportunity to show the power of this service live at the world's most influential media tradeshow", says Tom Wootton, Head of Product, Red Bee Media.
During IBC 2019, visitors will be able to get a behind-the-scenes look of how the captions are produced for IBC TV through real-time webcam feeds on the Red Bee stand. In addition to this, Red Bee will be showing innovations in Live Automatic Captioning with ASR as well as Audio Description Services and Digital Video Capabilities.
Yearly output from Red Bee's seven global Access Services hubs:
200,000 hours of captioning globally
70,000 hours live captioning
2,500 hours/year of translation and subtitling
6,000+ hours/year of audio description