IBC 2019: Ross Video brings high impact, high efficiency production
Ross Video (stands 11.C10) will be Living Live at IBC 2019 with its largest ever presence at the show. Designed to inspire and excite, the Ross booth will showcase the latest high impact, high efficiency solutions for production professionals, including solutions for end-to-end News workflows, automated News production, stadium and live events production, esports productions, virtual and augmented reality applications, virtualization and IP infrastructure, graphics workflows, all-in-one production applications and flypack/OB/Remote Production (REMI) environments.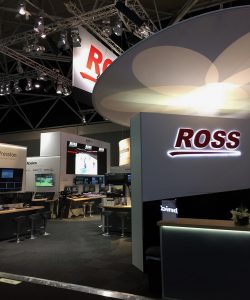 In advance of the event, Ross is very pleased to announce several innovative new solutions and provide updates on significant feature enhancements to existing solutions, all of which will be available for demonstration on booth 11.C10 throughout the exhibition:
Tria + UHD Production Server – a brand-new addition to the Abekas Tria production server line that provides two symmetrical 4K UHD video channels, that can be instantly configured as 2-play, 2-record or 1-play and 1-record.
pro-xi – the first product to emerge from the acquisition of Portalis, the pro-xi® integrator revolutionizes the way control rooms and command & control centers around the world are designed, engineered and managed. The pro-xi® integrator enables control room operators to simultaneously view and actively control multiple computer systems from one workstation, using one keyboard and one mouse.
Voyager – Ross Video's new graphics render engine for virtual studio/augmented reality applications, based on Epic Games' Unreal-4 platform and fully supporting MOS newsroom workflows. Complementing the launch of Voyager is the launch of UX V5 – the latest version of Ross Video's UX control system for virtual applications, which now includes XPression Datalinq integration, operator-created rundowns, and MOS-based NRCS integration.
Piero – the innovative and award-winning sports analysis tool makes it first appearance at IBC since being acquired by Ross Video. Piero uses image recognition or encoded camera heads to overlay tactical graphics on sports content. PIERO brings new angles to every game, on the screen, and in the studio, with visually engaging and informative effects.
Graphite V2.2 – the latest upgrade to Ross Video's all-in-one production solution adds a host of highly-sought features to Graphite's internal RAVE audio mixer, including embedded-SDI channel pair configuration and the new Audio Equalizer (EQ) function, offering 4-band EQ for every fader.
SkyDolly & MotionDirector – Ross Video's new ceiling-mounted robotics solution makes its European debut at IBC – the safest, smoothest and most flexible camera motion system available. Also new for IBC is MotionDirector – a new motion control algorithm for all Furio solutions that provides superior smoothness and more precise control (included within V5 of the SmartShell robotics control system).
OverDrive V19.1 – OverDrive has been updated for IBC to support the Carbonite Ultra production switcher, which includes MiniME and Multiscreen Canvas support, and also features a host of folder management and organization improvements.
XPression V9.5 – the industry's fastest-growing real-time graphics platform has been updated for IBC with the launch of the new M8 hardware platform that includes both 2RU and 4RU HD-SDI engines.
Streamline News Video Suite – a new suite of solutions that covers the workflow for managing video assets, managing a playlist of video assets and playing the clips on-air. Streamline News Video Suite comprises four Ross products – Streamline Production MAM, Streamline Play Sequencer, Tria News Video Server and EVO storage.
Inception v14 – the latest version of Ross Video's Inception newsroom computer system (NRCS) will feature new user-definable workflows and customizations developed in collaboration with Red Bull Media House for the Servus TV project announced at NAB 2019.
Ultricore BCS – a new Broadcast Control System controller that adds more scale, more power and more capabilities to the Ultrix suite, and includes advanced license support for advanced systems. Allied to Ultricore BCS is Ultricore IP, an optional license for Ultricore BCS designed to bring enhanced efficiency when using IP signals within the facility.
Gator Toolbox – a new openGear card UHD Up/Down/Cross Converter and Standards (frame rate) Converter. It features proc amps, color correction, region of interest, SDR/HDR and more. Gator packs the most density in signal conversion in a fully-featured one card solution.
Mira + Replay Server – a new Mira hardware unit that offers more video channels 6, 8 or 12), increased storage capacity and a refreshed control surface, all at a lower price.
Tria + Production Server – a new Tria hardware unit that offers more video channels (4, 8 or 12), increased SSD and HDD media and upgraded 10G ethernet, all at a lower price.