IBC 2019: Simplylive will showcase the latest advances and new products
Simplylive (stand 3.B19) will showcase the latest advances and new products at IBC 2019.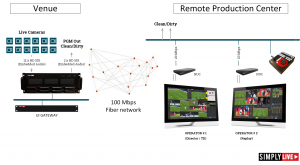 As remote productions continue to be one of the key focus of this industry in perpetual transformation, Simplylive introduces the UI Gateway for management and bandwidth optimization of remote connectivity. The UI Gateway allows the various Simplylive UI applications to be available remotely without requiring high bandwidth connections. The gateway is designed to work on point to point connections and can even work on internet connections of 5 to 50 Mbps per user. This new gateway adds the last critical piece to the Simplylive flexible architecture design to manage the various production scenarios from local, remote, cloud or true at-home situations.
The ViBox SloMo replay system will highlight networking capability across servers over standard 10Gbps Ethernet connectivity – including super slow motion, high-frame rate content. The ViBox SloMo intuitive and innovative approach will be applied to networking where full camera selection flexibility will be offered to users. They can freely select from any networked ViBox servers the number of cameras they want to manage. The architecture decorrelates channels, servers and users and offers production much more flexibility and efficiency in their user allocation. The ViBox replay solution has become the most powerful and intuitive solution for slow motion in the live sports market.
Our range of ViBox SloMo servers starts from a very affordable 4-Channel stand-alone system to multi-server, multi-channel (>50 channels) networked servers solution.
The ViBox Production All-In-One platform continues to expand the user experience with advanced functions and capability. The intuitive operating experience has been enhanced for more detailed control of the ViBox automation and playback behavior.
New automatic start modes for more refined control of effects, playback speeds and graphic keying behavior.
Manual transition modes have been expanded to allow more assignable graphic transitions.
Graphic presets and play modes have been added to give easier control to graphic keying.
Visual prompts on transition mode status for all scenarios based on preference settings for both automatic and manual modes
Transition features to/from PiP
Expanded storage for import of graphic transition files