IBC 2019: Sony expands its IP-based remote integration solutions
Sony (stand 13.A10) has unveiled its latest line-up of IP Live production solutions, including two new IP extension adapters – one for cameras and another for camera control units (CCU). Sony has also introduced two new remote-control panels for Live Element Orchestrator, as well as a SMPTE ST 2110 interface board for its PWS-4500 4K/HD live production server.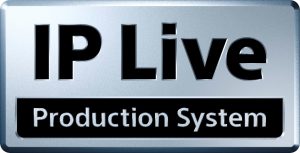 In June 2019, Sony entered into a strategic partnership with Nevion AS, a leading provider of virtualised media production solutions and the two companies will be on hand to showcase the next level of IP-based production environments.
This new partnership and line-up allow Sony to continue to help customers realise the unique benefits of IP for remote production and effective resource sharing. Working with broadcasters from across the world Sony has created advanced IP Live Production solutions and delivered more than 60 IP live studios and OB trucks to date. These include Euro Media Group, NEP Australia and SIC Portugal.
"Media organisations are focused on how to become more efficient and achieve higher return on investment from the production systems they deploy. Sony has been working closely with customers and prospects to develop products, services and solutions that meet those expectations – and our latest line-up of IP Live production solutions does exactly that," explains Anthony Kable, Content Creation Group Manager, Sony Australia. "At Sony, we help media companies embrace the changes IP can bring to their organisations. The transition to IP requires a change in mindset, workflows and skills. As such we are committed to working with our customers and industry partners to deploy their projects on time and on budget."
Advanced line-up of Remote Integration Solutions
The new addition to the line-up of Live Production solutions now includes two new IP extension adapters that transform the current HDC series of SDI system cameras into IP cameras with an SMPTE ST 2110 interface. Through their compact rack size, one third of the standard width, the new IP extension adapters allow advanced IP Live Remote Production and Resource sharing, implementing new workflow patterns for the existing HDC system camera series.
HDCE-TX30 – enables direct remote production capability for any of the HDC-2500, HDC-3100 and HDC-3500 camera heads, by offering instant SMPTE ST2110[1] IP Live Network connectivity, including all necessary production functions, such as IP Tally and remote-control capability.
HDCE-RX30 – a complementary solution to HDCE-TX30, offering native SMPTE ST21101 IP Live Network connectivity. It allows users to route any camera head to any HDCU-2500, HDCU-3100 or HDCU-3500 CCU. It also provides SDI and IP mixed system configurations as well as 4K/HD, HDR/SDR mixed operation based in SDI. This helps users to manage equipment across multiple studios, control rooms, and machine rooms centrally. The solutions enable the use of IP technology in traditional SDI environments, which provides greater resource sharing benefits.
Sony will also introduce two new remote-control panels that further strengthen the reliability, speed, and accuracy of commands through Live Element Orchestrator:
MKS-R4020 – a remote control panel that comes with 40 assignable LCD buttons that allow users to change configurations, including monitor input, remote control panel (RCP) assignment, and multi-viewer layout. In addition to being compatible with the Live Element Orchestrator, it can also control routing on the IP Live System Manager.
MKS-E1620 – a remote control panel with 16 encoders that can adjust various parameters of live equipment including system camera's HDR colour and contrast and is exclusively used with the Live Element Orchestrator.
Sony is also introducing a new optional interface board:
PWSK-4509 – offers SMPTE ST 2110 support for the 4K/HD live production server PWS-4500. The addition of the interface board allows the server to seamlessly connect with an IP live production environment and enables it to receive and transmit multiple video and audio signals with 25 GbE (SFP28) via an IP network.
Taking IP-based production environments to the next level
Earlier this year, Sony and Nevion AS, a leading provider of virtualised media production solutions, entered into a strategic partnership. Together, Nevion and Sony aim to provide customers the expertise and the products (both equipment and systems) needed to create tailored solutions for efficient and modern forward-looking live production operations. These solutions will maximise the benefits of workflow transformation through IP and virtualisation technologies, while minimising the risks involved in changing the production infrastructure and operations to IP. These include resource sharing for multi-studio operations, network construction for in-house backbone systems and efficient remote production connecting facilities located in different areas.
At IBC, together with United Broadcast, a subsidiary of Euro Media Group (EMG), and CenturyLink, Sony will host an end-to-end IP Live total solution demo, connecting the Sony booth (A10 / Hall 13) with the Nevion booth (B79 / Hall 1) and an IP remote production studio in Hilversum. CenturyLink (B61 / Hall 5), a technology leader delivering hybrid networking, cloud connectivity, and security solutions, will supply a 10Gbps network link to the Hilversum studio. Nevion Virtuoso, the software-defined media node, will be used to encode video signals with JPEG XS – new ultra-low latency compression technology, which is beneficial in live productions with limited bandwidth. The demonstration will highlight the enormous potential that IP-powered remote productions and resource sharing can have for media organisations.