IBC 2019: Teradek's Orbit brings zero-delay, wireless 4K video to broadcast and live production
Teradek is leading the charge to introduce zero-delay wireless video technology to the broadcast, live production and ProAV markets with Orbit, the world's first zero-delay wireless video system that transmits lossless, 4K HDR video over ranges up to 2km. Orbit joins the previously announced Orbit PTZ, Teradek's 4K wireless video transmission and control solution for PTZ cameras.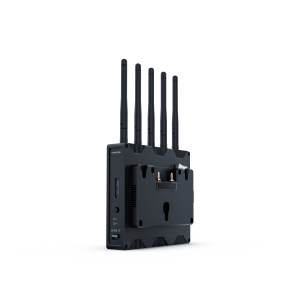 The Orbit line of products utilizes Teradek's patented Joint Source Channel Coding (JSCC) combined with both MIMO and OFDM, to encode and transmit video over the 4.9 – 5.8 GHz bands. The JSCC approach enables full utilization of 40MHz / 20MHz channel capacity. Sustained image quality is visually lossless and offers far better handling of channel interference compared to traditional discrete H.264/ HEVC encoding and OFDM / MIMO transmission methods. This results in an extremely robust wireless link that transmits pristine 10-bit 4:2:2 4K video with less than 1ms latency.
Orbit is specially designed to make broadcast workflows more efficient. Integrated Tally and IFB streamlines communication between camera operators, crew members, and video subjects in live environments, while its 7-pin LEMO connector offers RS 232 and RS-422 connectivity for remote control of PTZ and ENG cameras.
Orbit blends into any production environment with support for all common video frame rates and resolutions, from NTSC / PAL to 4Kp60. It can broadcast to multiple to receivers simultaneously, with each capable of outputting independent resolutions and Frame rates as desired. Using the free iOS and Android application, users can rapidly configure the system's settings, including manual selection of an operating channel for frequency coordination applications. Orbit begins shipping Fall 2019 and is available with Gold- or V-mount battery plates.