IBC announces Telco and Media Innovation Forum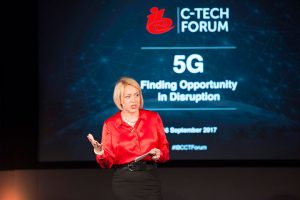 IBC has announced an all-new Telco and Media Innovation Forum as it looks to expand on its position as one of the preeminent destinations for telecoms and emerging technologies.
The collaboration will form part of the annual IBC show at the RAI in Amsterdam from Thursday 13 to Tuesday 18 September 2018.
IBC2018's focus on telecoms and smart connectivity comes at a time when the media and telecoms industries are becoming increasingly intertwined. Mirroring this trend, a cross-section of new and long-time IBC exhibitors will showcase the latest breakthroughs set to define both industries.
To reflect the ways in which emerging network technology is changing how the media world operates, IBC2018 will feature the dedicated Telco and Media Innovation Forum designed for the leading players in the industry and a new 'Smart Connectivity and Multiplay Devices' track within the IBC Conference Programme in order to provide a platform for collaborative dialogue between telecoms providers, media players and the OTT sector.
The exclusive Telco and Media Innovation Forum will include keynotes from Matt Stagg, Director of Mobile Strategy at BT Sport (pictured, right) and Jeremy Fox, Co-founder & CEO, Atrium TV who will discuss how content is developing and how telecoms providers are benefitting from joining their club.
Domingo Corral Lopez, Director of Original Programming, Movistar will provide an insight into how his business is developing original content under the wider Telefonica brand.
The invitation-only programme will bring together C-suite level audience members to examine the collaboration between telecoms players and content providers, digital transformation, OTT content and current challenges around the evolution of the telecoms sector.
The 'Smart Connectivity and Multiplay Devices' track will tackle the challenges and opportunities offered by 5G, exploring the impact the technology will have on broadcasting and beyond.
Speakers include Dr David Gomez-Barquero, Senior Researcher, Ramon & Cajal Fellow, Universitat Politecnica de Valencia and Dr Athul Prasad, Head of 5G Business Modelling & Analysis, Nokia – both from the 5G X-Cast consortium – who will deliver a focused masterclass on the future 5G network architecture for live scale immersive media delivery.
Nicholas Wodtke, Executive VP, Digital Content, VEON will also give a case study around value added services, the role of content and how traditional mobile services are being disrupted.
"It's important that events like this break down the silos of technologies and industries – this programme reflects the reality of broadcasting today."
IBC2018 is collaborating with the TM Forum – a non-profit industry association for service providers and their suppliers in the telecommunications sector – to increase cooperation and collaboration between their respective industries.
TM Forum's members generate over $2 trillion in revenue and serve five billion customers across 180 countries. The venture will encourage senior executives from both sectors to partner, helping broadcasters, operators and software vendors to work together across the media and telecoms sectors.
IBC chief executive Michael Crimp said: "IBC is the go-to destination for media technology professionals, attracting almost 60,000 people to Amsterdam each September. At IBC2018 we are launching the IBC Telco and Media Innovation Forum. Working with the TM Forum and others, IBC will bring together C-level executives to explore the opportunities and challenges created by convergence.
"We promise our hosted delegates a high-level networking event with world class content. I am sure this will be valuable day for all our guests. I am looking forward to being part of this new initiative."
Matt Stagg, director of Mobile Strategy at BT Sport, added: "Joining the biggest businesses in the telecoms and media spaces provides me with an opportunity to meet the most influential voices in each field – as a broadcaster looking at the role of mobile and our future, that's vital. It's important that events like this break down the silos of technologies and industries – this programme reflects the reality of broadcasting today."
To find out more about IBC's Telco and Media Innovation Forum and register your interest please visit https://show.ibc.org/invitation-only/telco-media-innovation-forum