Imperial War Museum archives with Spectra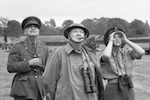 Not sports, but rather significant due to the organisation's leading role in digital archiving: IWM (Imperial War Museums) has selected Spectra Logic kit to provide archiving and disaster recovery for its vast collection of digital assets. The installation is part of a £3million project that includes the deployment of high-end digital scanning equipment, a Collection Management System (CMS), bespoke Digital Asset Management (DAM) software and a mass storage system to handle the significant amounts of digital data generated by the initiative.
In addition to its conventional museum role IWM is also a major national art gallery, records archive and research center. Its trustees' endeavors to collect every type of historical evidence pertaining to conflicts across the world has seen it build an impressive archive, which includes more than 15,000 paintings, drawings and sculptures and 30,000 posters; objects ranging from aircraft, armored fighting vehicles and naval vessels to uniforms, badges, personal equipment, and medals and decorations; documents, both British and foreign; a library of more than 155,000 books; 120 million feet of cine film and more than 6,500 hours of video tape; more than six million photographs, and some 32,000 hours of historical sound recordings. In particular, the project will be used to preserve precious audio and video footage of Winston Churchill and the Battle of Britain.
Spectra Logic's T950 tape library has been deployed at IWM Duxford in the UK, one of the museum's five sites and Europe's premier aviation museum. From this location, the Spectra T950 will be used to archive material as the museum's cataloging and digitalization efforts gather pace. IWM also creates around 5TB of new data every year, including information on current operations received from the Ministry of Defence which will also be housed on the Spectra T950. The T950 provides 1PB of storage today and can expand to deliver more capacity as needed in the future. It is connected to IWM's London data center sites via Gigabit Ethernet. IWM has set up a mirrored system between the two sites so data is first written to primary storage in IWM London and then replicated to IWM Duxford.
"When IWM embarked on this ambitious project we were aware that our storage requirements would potentially be huge, making capacity, scalability and cost-effectiveness major factors in how we architected our mass storage platform," said Ian Crawford, Head of ICT at the IWM. "We selected the Spectra Logic T950 as it offers significant capacity up-front, with an architecture that will allow us to add further silos, drives and tapes to satisfy our future storage demands. This, allied with the long-term LTO roadmap, ensures that our investment is future-proofed and our requirements met at the lowest possible price per GB."
"The shift to digital content and the need for organizations to protect their archives is one of the great challenges in the storage industry today," said Molly Rector, executive vice president of product management and worldwide marketing, Spectra Logic. "By creating an active archive system across tape and disk, IWM has not only addressed its needs from a capacity perspective, but is also able to make its archived assets readily available, supporting the business' drive to increase revenue streams through licensing and reprints."