Media Mobil GmbH gives OB unit a Grass Valley update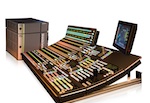 Media Mobil GmbH is giving its Unit 7 OB truck a technology refresh and Grass Valley and its gear will play a key role in the unit that will now feature a Grass Valley 3 M/E Kayenne vision mixer and a signal workflow based around the Trinix NXT router.
"Re-equipping an outside broadcast unit is always a major decision for us," says Klaus Sandig, Managing Director of MMG in Leipzig. "We have to be sure that we invest in technology that our customers appreciate and are comfortable with, and we have to have a systems partner that can design and implement those solutions as
quickly as possible so we can get the truck back on the road and earning revenue. After a competitive phase, Grass Valley was selected as the primary vendor for this project and we're confident we made the right decision."
According to Grass Valley, Media Mobil GmBH came to the company looking for reliable live production tools and flexible workflows. Thanks to its small footprint, low power consumption, and cool and silent (fan-free) operation the Kayenne fits perfectly for outside broadcast applications and giving directors the creative freedom they require.
Offering advanced capabilities and an unprecedented numbers of macros and E-MEMS, the Kayenne will allow directors to create sophisticated effects, transitions and motion graphics, in conjunction with the built-in K2 Solo clip store.
Unit 7's infrastructure will be based on the Grass Valley Trinix NXT router. To ensure the truck is ready for any requirement in future, it is equipped with a 256×512 router frame, currently fitted with a 160×192 matrix plus a 32 input multiviewer output. Incorporating the multiviewer inside the Trinix NXT router saves both space and power, eliminating the need for outboard processing and cabling, reducing the weight of the installation, and thus saving fuel when moving from location to location.
MMG, already an extensive user of Grass Valley cameras, has also selected six LDK 8000 HD cameras using the new 3G Transmission system Unit 7. This solution provides full digital HD functionality over either triax or fiber, allowing the truck to be used for any project in any location.
The entire upgrade was designed by Grass Valley systems engineers, and the refurbishment is planned to ensure that Unit 7 will be in service shortly after May 2012.
"Grass Valley's products are the standard in outside broadcast operations around the world because, as well as delivering outstanding quality, crews are comfortable with their operation," says Alan Wright, senior vice president of Europe, Middle East, Africa, for Grass Valley. "Add the skills of our systems team who positively relished the challenge of designing and building a powerful HD production system within the fixed confines of an existing vehicle against a tight timescale, and MMG have an excellent renewed asset thanks to partnership with Grass Valley."