Newzulu using Abekas AirCleaner for compliance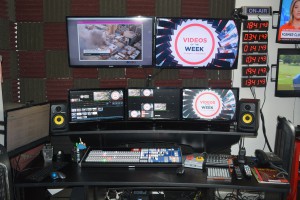 Newzulu is the world's leading crowd-sourced news and freelance journalism platform, connecting amateur and professional freelance journalist contributors, photographers and videographers with over 7,000 media outlets and advertisers worldwide.
Founded in 2007 as Citizenside, in partnership with l'Agence France-Presse (AFP), Newzulu has grown to a network of more than 150,000 amateur and freelance journalist contributors located in over 150 countries worldwide, with an archive containing more than 1.5 million content assets available for licensing. Newzulu receives approximately 600 to 1000 images per day and distributes to its wire partners between 20 to 40 stories, each consisting of five to 20 items of content (images, videos); for an average total of 200 to 300 assets a day.
Headquartered in Sydney, with global operations based in Paris, Newzulu operates eight bureau studios around the world including London, Paris, New York, Los Angeles, Montreal, Sydney and Auckland.
At Newzulu's editorial office in Los Angeles, a team of journalists review submitted content and package news stories to make them valuable to their media partners. Each of the eight studios is equipped identically and all studios are linked globally to facilitate collaboration.
Freelance contributors and citizen journalists, using the Newzulu mobile application, available in both iOS and Android versions, transmit live feeds to one of the eight studio control rooms. Which production team reviews the content is based on geography, time of day and workload – and is managed by the Newzulu production platform. Producers in each control room review incoming content and select feeds based on newsworthiness, quality, contributor and other factors.
As Newzulu delivers feeds and packaged stories to media outlets around the globe with different broadcast rules, regulations and content ratings, the video is passed through an Abekas AirCleaner to ensure compliance. The output of AirCleaner is delayed by three seconds – giving the operator the time to react and to censor offensive visual and/or aural content from the feed being distributed. Newzulu uses AirCleaner's unique 'audio jumble' and 'video defocus' effects to ensure any offensive content passes even the most stringent broadcasting rules. The clean version is then sent raw or packaged with graphics and/or other source content, based on the requirements of each media outlet.
"AirCleaner is truly plug-and-play; it really could not be easier to install and to operate. We have eight AirCleaners now, one in each news bureau; and they work flawlessly 24/7," says Andy Crosby, senior vice-president – Video, Newzulu Limited.
Platform mechanics
The Newzulu Pay platform streamlines the reconciliation of distributed content with the source provider. The contributor has a dashboard to manage their content and see where it has been licensed through the Newzulu distribution platform. Thanks to the Newzulu Pay platform, the contributor receives payment for any content being distributed. This makes the entire platform more attractive to freelance journalists and consumers alike.
Newzulu is educating the next generation of journalists with seminars and information sessions at film schools, journalism schools, community colleges and other venues across the United States. With the shelf-life of news now being measured in minutes, the need for a dramatic increase in the number of affordable stories is critical.
The Newzulu investment in their video platform is allowing them to connect hundreds of thousands of news contributors – both professional and amateur citizen journalists alike – to thousands of media partners around the world for a fraction of the cost of traditional newsgathering. The future of news is 'pro-am' and Newzulu is at the center of this revolution.