Northen joins ATG Broadcast as COO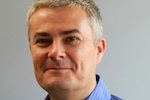 ATG Broadcast has appointed former Gearhouse Broadcast General Manager, Clive Northen, as its new Chief Operating Officer. He is based at the company's administrative and engineering centre in Letchworth, where he will report to Managing Director, Graham Day.
Northen commenced his broadcast industry career in 1994 on the staff of Worldwide Television News at its headquarters in the Interchange Building, Camden. He was appointed Bureaux Equipment Manager when WTN was acquired by the Associated Press.
In 2003 he joined Charter Broadcast as Client Manager to develop its rental and flyaway-system activity, progressing to Presteigne as Operations Manager where he was involved in coordinating the company's relocation from New Malden to Gatwick.
"Clive has an ideal combination of commercial and operational experience which will further strengthen ATG Broadcast's capabilities at a time of expanding opportunities in the systems installation and equipment distribution areas," Graham Day comments.
"ATG Broadcast has an excellent reputation both in the United Kingdom and globally for the quality, reliability, ease-of-operation and expandability of its broadcast systems," Clive Northen adds. "It has long been a market leader in the transition from discrete media to file-based technology and is now at the cutting edge of the transition from standard definition into high definition."