OB-Team highlights EVS role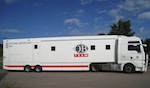 Norway's OB-Team has been talking about the role that EVS kit plays in its latest generation of OB vehicles, including its 3D-capable HD3 unit which has XT3 high-speed production servers beating at its heart.
"With advances in second screen applications and connected TV, it's essential to offer the best environment for our customers. To do so, we've expanded the number of EVS servers we use and have implemented a new file-based workflow," explained Bjørnar Nordahl, managing director of OB-Team. "We can now provide a full experience for the fans, get to air quickly and efficiently, and with full 3D too."
The XT3 servers from EVS are being used by OB-Team to ingest and playback multi-camera feeds. They can be configured to support up to eight channels in HD or six DualLink or 3G channels in multiple IN/OUT modes for live 3D or 1080p productions. MulticamLSM is used to control the servers, allowing LSM operators to produce instant replays, including Super Slow Motion action replays in 3D, and to create highlight packages. The servers are interconnected via EVS' high-bandwidth media sharing network XNet2, which allows LSM operators to gain instant access to all A/V content recorded on any connected XT3 server.
As part of the solution, OB-Team is also using EVS' IPDirector suite, which provides a single interface of all recorded material on the connected XT3 servers. The suite acts as a central media management system allowing the transfer of material directly to post-production. And in an effort to speed up media interchange between the EVS servers and third-party systems, OB-Team relies on XTAccess, a GigE gateway tool, and XF2 removable hard disk drives. As a result, OB-Team provides a seamless file-based workflow from ingest to post-production that optimises its client's craft editing on Avid as well as on Final Cut Pro.
"We'd been using EVS' XT2 servers for some time and were confident that upgrading to XT3 would deliver an even more powerful platform," said Espen Frøysa, OB-Team's technical director. "The XT3's eight-channel configuration provides us with even greater flexibility, meaning that for some productions we are able to produce with fewer servers and less operators compared to the past."