Red Bee invests in Custom Consoles desks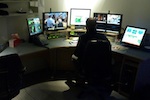 Red Bee Media has bought a range Custom Consoles studio desks for its ingest and editing facilities in central London, including split-level desks from the company's Media Desk range as well as three bespoke desks.
"Seven Media Desks are being used to accommodate equipment used for editing video and audio interstitials such as programme trailers," comments Custom Consoles' Managing Director, Neil Reed. "Media Desk's split-level design allows computer displays and video monitors to be positioned on a height-adjustable surface matching the operator's eyeline. The main work surface can also be varied in height, allowing individual users to adjust their posture throughout a shift. The Media Desks are configured as one four-seat group plus a three-seat group, each workstation accommodating two flat-screen computer monitors, a full-depth CRT monitor and stereo loudspeakers. Each desk is divided from its neighbours by an insulating partition.
"We also designed and installed a four-operator single-level video editing desk, each operator being equipped with two flat-screen monitors on user-adjustable wall mounts," he continues. "The second of these three desks is a single-operator L-shaped design accommodating five flat-screen monitors. Three of the monitors are located on an equipment pod at the rear of the main work surface. The third desk is a dual-operator ingest suite with a seven-pod raised equipment bay occupying its full width. This has two additional floor-to-desk-level bays, each housing a video tape transport and additional equipment. All three of the bespoke desks are maple veneered and have hard-wearing blue Marmoleum worksurfaces."