SIS LIVE boosts Eutelsat capacity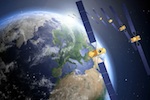 SIS LIVE is ramping up its access to permanent capacity on satellites operated by Eutelsat ahead of what it expects to be a very busy 2012.
New contracts have been signed between both companies for significant capacity on the ATLANTIC BIRD 1 satellite and on W3C, Eutelsat's newest satellite. With multi-year leases guaranteeing access to 144MHz of capacity on W3C and 36MHz on ATLANTIC BIRD 1, SIS LIVE has a fairly exceptional footprint covering the UK and Europe. The capacity will add flexibility to SIS LIVE's pool of permanent resources, equipping it to meet broadcaster requirements for a slate of events in 2012 that includes the Queen's Diamond Jubilee and the London Olympic and Paralympic Games in addition to Formula One, Wimbledon Championships, European Tour Golf and the 2012 European football championship in Poland and the Ukraine. It will also support SIS LIVE's expanding business operations in France.
David Meynell, Managing Director, SIS LIVE says: "Having worked closely with Eutelsat for many years, we are pleased to be able to extend our joint operations. This will enable SIS LIVE to offer our existing and new customers enhanced services and provide them with wider and even more robust access to the global satellite network."
Andrew Wallace, Eutelsat Chief Commercial Officer commented: "In advance of an exceptional year for TV viewing, we are delighted to consolidate our relationship with SIS LIVE, an industry reference for outside broadcasting and uplink services. SIS LIVE is continuously seeking to enhance its broadcast facilities and we are committed to leveraging our experience and resources to meet its expectations and those of its clients."