Sky buys into zeebox and raises app stakes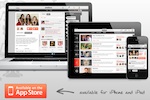 Sky has entered into a strategic partnership with second-screen specialist zeebox to offer what it says is a ground breaking companion app experience for Sky customers featuring augmented TV viewing features later this year.
"Sky will become the only TV platform in the UK to integrate zeebox's technology into its own applications – which include Sky+ and the multi award-winning Sky Go – to give its customers an even richer companion experience to complement their main set viewing," says a statement.
The zeebox service – currently available on iPhone, iPad and the Web – serves up social media feeds and conversations via Twitter and Facebook, as well as additional information on the topics, people and products featured within specific programmes. Consumers use these 'zeetags' to search the web for more information, read up on characters or actors, purchase music, buy products featured on-screen – whether during programmes or ad breaks, or simply share their views with friends and followers on social media.
From later this year, Sky customers will also be able to use a zeebox-powered Sky app to access their Sky+ box on the move, so they can manage their Sky+ recording remotely, as well as using their iPhone or iPad as a remote control for their Sky box, creating a comprehensive and fully integrated companion TV experience.
As part of this multi-million pound strategic partnership, Sky has become an investor in zeebox and has taken a 10% equity stake, providing funding to support the company's future product roadmap and global rollout plans. As part of the deal Sky Media will become the exclusive advertising sales agent for zeebox's synchronised advertising inventory. zeebox remains an independent company continuing to operate its own zeebox branded social TV platform in the UK and elsewhere. It will continue to deliver an innovative second-screen platform that broadcasters and programme-makers can use to support and enrich their shows, connect with fans, and obtain new insights into viewer behaviour.
As ever, El Reg has some interesting points to make: BSkyB nabs stake in telly babble app biz Zeebox