South Africa's SuperSport upgrades fleet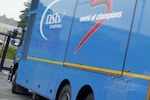 South African sports broadcaster SuperSport is rolling out two new rigid-chassis OB trucks designed specifically for the rigours of working in Africa and kitted out with an impressive array of EVS equipment.
SuperSport is expanding its OB fleet to provide enhanced coverage of local sports and events in HD across the African continent (indeed, part of the fleet will also be used as general production units for M-Net, a private subscription television service in Africa and SuperSport's sister company). The new-generation OB fleet is composed of two rigid chassis trucks, OB1 and OB3, which have been designed for the difficult road conditions in Africa and can be joined together once on location to form a single OB unit.
Each truck is equipped with twenty Sony HD camera systems and with an extended range of EVS products.
The XT3 servers are used to ingest and playback the multiple camera feeds. They can be configured to support up to eight HD channels or six 3D/1080p channels in multiple IN/OUT modes. The XT3 servers are controlled with EVS' MulticamLSM remote controls, which allow operators to create clips and produce Live Slow Motion replays, including Super Slow Motion. The XT3 servers are linked to the EVS high-bandwidth media sharing network XNet2, which allows all A/V content recorded on any server connected to the network to be instantly accessible to operators without interrupting the recording process.
An IPDirector suite provides a complete overview of the production network and allows operators to browse, edit, transfer and play out recorded content instantly. SuperSport operators will also benefit from the timeline editing module of IPDirector, IPEdit, for realtime editing and on the fly highlights creation with no rendering process required.
SuperSport's new-generation OB fleet will also be equipped with EVS' new portable storage solution XFly. This portable storage case offers up to 140 hours of content in HD at 100Mbps (8TB storage capacity), so operators can easily transport entire productions, including the programme feed, shots from multiple camera angles and highlights to remote post-production facilities.
Finally GX servers will be used to play out uncompressed HD graphics and operators will be able to browse, select and edit or transfer (to the XNet2 network) material recorded on ENG devices thanks to Xedio Dispatcher.
Andre Venter, Director of SuperSport Media Solutions Africa concludes: "The design of our new OB fleet required technology that is dependable and scalable. We also had to consider the local skill-set of the operators, which is still developing. Having previously worked with EVS, we felt confident that they could deliver flexible and intuitive solutions that would match the standards we were after".