Spidercam secures GMG sales and support deal in North America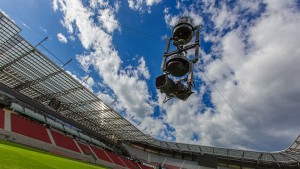 Spidercam has agreed a strategic partnership with Gravity Media Group (GMG) that will see its eponymous cable camera system marketed and supported by Gearhouse Broadcast in the USA and Canada.
The deal will see Spidercam supply its engineered systems with Gearhouse taking on responsibility for marketing them locally, providing crew and service support as well as maintenance and logistics.
As a part of the agreement, the joint venture will operate from Gearhouse Broadcast USA's facility in Charlotte, North Carolina.
The agreement, finalised at NAB 2018, is the second such agreement between the two parties following a partnership in Australia and New Zealand initiated in 2015.
Jan Peters, the prresident of Spidercam US said: "We look forward to working with Gearhouse Broadcast as a partner in developing the market for Spidercam and supporting many more users of the camera system in the USA and Canada."
GMG chief executive John Newton added: "We are very happy to be extending our working relationship with such a unique and high quality system that enables us to offer our existing and many potential new customers something quite different in the USA and Canada."