STV goes into OverDrive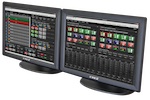 Scotland's STV has increased its regional news output, including, of course, sports coverage, using Ross Video's OverDrive Automated Production Control System.
According to Ross, which recently reported an impressive 47% jump in profits for the last calendar year, the adoption of OverDrive by STV highlights the recent growth of its automated production control solutions in the European market. Furthermore, it says, the ability to efficiently produce clean, fast-paced productions with OverDrive will allow STV to produce additional content and increase their acquisition and creation capabilities at the same time.
"Ross has been very supportive of our news expansion plans, working closely with us during the implementation of this new technology," said Gary Welsh, Operation Director, STV. "This is the first OverDrive implementation in the UK and we're impressed by the technology. OverDrive has definitely delivered the benefits expected."
"STV have always been an innovative and forward thinking Broadcaster and we are delighted that after some comprehensive research of automation solutions, they have chosen Ross Video as their studio automation partner" commented David Dowling, Ross Video's Director of Sales for Europe.