T-VIPS linking Spanish football in HD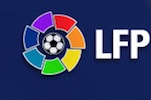 Mediapro, the Spanish media, communications and service provider group, has selected T-VIPS' TVG450 JPEG2000 Gateway for live HD contribution, notably from La Liga. The TVG450s will be used to link three locations across Spain: GloboMedia; a production facility in Madrid, Mediapro in Barcelona and Mediapro in Madrid.
The project marks the continuation of a partnership between T-VIPS and Mediapro that will enable La Sexta the Spanish TV channel to broadcast La Liga football and other HD productions live.
Mediapro provides video transport services to a wide range of customers and has been using T-VIPS' Video Gateways for the contribution of high quality video between the Neu Camp in Barcelona and Mediapro's Master Control Room (MCR) for the last two years. This new project will be implemented in cooperation with T-VIPS' Spanish business partner, Mome.
"T-VIPS' solution is robust, reliable and easy-to-use – three key requirements for us," said Emili Planas, Operations Director, Mediapro. "Not only is the TVG450 cost-efficient it is also future-proofed, providing an easy upgrade route to additional functionality. It is absolutely crucial that La Sexta is able to provide un-interrupted video to millions of football viewers. When you have some of the best footballers in the world in action it's only fitting that the video is the best possible quality too – with the T-VIPS solution that's exactly what we deliver. The equipment fits perfectly into our extensive IP Network."
The TVG450 JPEG2000 Gateway enables the transport of HD video over IP networks. Utilising JPEG2000 compression technology, the system can transport compressed 3G, 3D, SD and HD video over Gigabit Ethernet or DVB ASI links. The TVG450 is designed for the realtime contribution and distribution of high-quality video over IP networks. It offers flawless operation from end to end with built-in Quality of Service functionality through advanced Forward Error Correction and error concealment, making it an ideal solution for ensuring the quality delivery of La Liga's live football.
"We have considerable experience in delivering solutions to live sport broadcasters across the globe and we are delighted to be able to provide this expertise for Mediapro's football coverage," said Johnny Dolvik, CEO, T-VIPS. "As pioneers in JPEG2000, we offer tried and tested products that have demonstrated the unrivaled quality of this compression scheme. Our market leading solutions are increasingly popular with sportscasters due to both their reliability and the quality of video we provide. We plan to continue to offer broadcasters and service providers the best solutions for transporting the world's most valuable sports video assets."