Tightrope's ZEPLAY pushes the envelope in Manila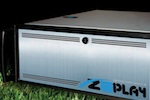 A bit further afield than usual: Manila-based Video Gear, a supplier of OB facilities to TV networks in the Philippines, has been talking about its ZEPLAY multichannel instant replay server from Tightrope Media Systems, which has impressed TV director Dong Capinpuyan, Head of Sports5 Production.
"The interface was quite new to us, but as our operators got used to it we realised the features that were available," he said. "The playlist creation is very convenient, especially during production or on the fly editing in a live environment."
ZEPLAY is a four in, four out HD server. It is designed to provide a constant recording of four key camera angles, with the ability to instantly jump to any point in the recording and replay one or more channels, at variable speed if required.
The Video Gear truck with its ZEPLAY server has been used for a wide variety of TV5's sports coverage, including Ultimate All Stars (NBA Stars vs Philippine Basketball Association) PXC (Pacific Xtreme Championships) Mix Martial Arts PBA basketball and UFL football, as well as local and international boxing and Muay Thai. The FIBA Asia 2011 Champions Cup, a nine day basketball championship, was aired live throughout the Far East, and seen by satellite by FIBA in Europe and Al Jazeera Sports in the Middle East.
It was also used for the World 10 Ball Championships in billiards. "We like the ZEPLAY for billiards because we can string together different shots of the player winning a frame easily, and do a quick summary of highlights at the end of a frame," explained Capinpuyan. "In basketball we quickly create highlight packages of each half using the clip melt functions, which we can play live to air using the built-in switcher."
Capinpuyan continues: "We started using the ZEPLAY extensively over a year ago and we have yet to encounter any issues with the hardware or software – in fact everything has run smoothly from the start."
For Video Gear, managing director and owner Fernan Obrero said: "Using ZEPLAY has helped enhance our production quality, and has raised the bar of our coverage through the use of instant replays from different angles.
"TV5 liked our truck so much that they are buying it for their own services so we are buying another ZEPLAY for our new OB unit as our users like it so much," he added.