Webinar: Key insight and analysis on remote live production
Grass Valley will host a free seminar on Tuesday July 10 addressing why remote productions are a key topic in the industry and what are the most significant challenges involved.
The presenters will be Larissa Göerner, Strategic Product Manager at Net Insight and Klaus Weber, Principal Camera Solutions & Technology at Grass Valley.
Tasked with producing more live coverage with squeezed resources, broadcasters are turning to remote live productions.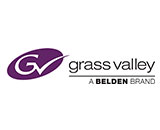 Correctly implemented, remote productions can reduce the movement of people and equipment; increase the utilization of equipment; reduce on-site set-up times; and maximize the efficiency of production teams.
Have you worked on remote (@ home) live productions?
Are you planning to implement remote (@ home) live productions?
Are you looking for new, innovative ways to increase the efficiency and reach of your live production operations?
Click here to reserve your place at the webinar.