XD Motion immerses viewers in the UCI Mountain Bike World Series
XD Motion's X flys were in action at the UCI Mountain Bike World Series in Nové Město na Moravě in the Czech Republic from 11-14 May.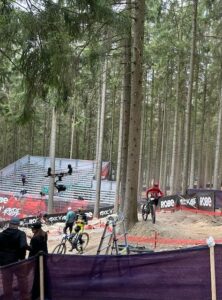 An X fly 1D mini was positioned on the finish line and two Cablecam X fly 1D micro setups were situated in the forest between the trees, able to move up to a 45° angle and at 60km/h in speed. Just one operator was needed to rig and operate the X flys.
The event was broadcast live on Eurosport, produced by Warner Bros Discovery and directed by Anthony Forestier. The addition of innovations such as the X flys is part of WBD's commitment to elevate the world series to a whole new level as part of a recent eight-year agreement with the UCI. Other innovations include first person view drones at each event venue and the integration of biometric data into the coverage.
Olympic gold medallist Tom Piddock powered to victory in the UCI Cross-country Short Track World Cup men's elite race, while Puck Pieterse took the women's title.