Current sports broadcasting challenges will accelerate innovation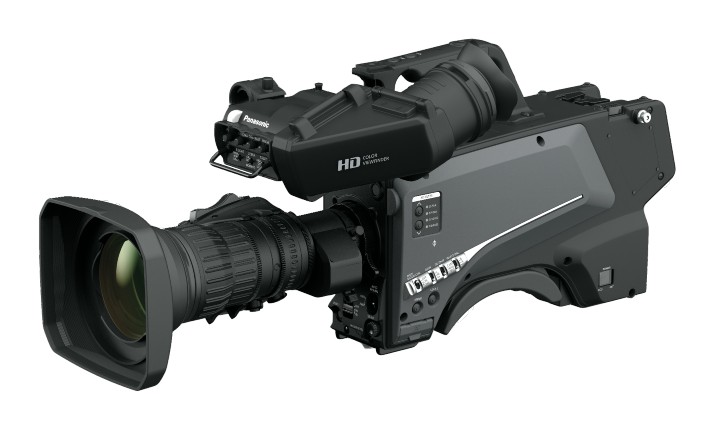 With the world of sports broadcasting having to adjust to the post-pandemic "new normal", SVG Europe talks to Panasonic manager of sales engineering MEBD Pro-AV Stefan Hofmann about the current challenges and how the latest broadcast camera systems can help.
How have the adjustments that professional sport has had to make changed the sports broadcasting world?
At the beginning of the year, no one could have predicted the vast changes that the professional sporting world would have to face. Of course, those challenges pale into insignificance against the backdrop of personal tragedy, but for the sports broadcasters, there have been some significant industry issues that have had to be addressed.
Who would have imagined that we would see empty stadiums, socially distanced presenters or fake crowd soundtracks? As these changes play-out, I believe that we have seen the rapid acceleration of some trends that were already emerging and some new changes that will permanently alter the way we cover sport in the future.
In your opinion, what has been the major challenge for sports broadcasters?
With events taking place behind closed doors, it is hard for broadcasters to create the same immersive atmosphere with their broadcasts. Colourful shots of the crowd, managers and players in lively conversation on the bench, have all been removed. Now the almost constant focus for the broadcaster must be on the sporting action itself and the challenge is how to bring this action to life in more engaging ways than ever before.
Despite these tumultuous times, Panasonic has expanded its line-up with two new camera systems that have a variety of features and functionality to help bring these sporting events to life and make them more immersive broadcasts.
How can these new systems help broadcasters?
The Panasonic AK-UC3300 (pictured above) is a 4K Studio Camera system equipped to deliver high-quality video. It's all about delivering the best sporting images for viewers. It uses a large 11-megapixel 4K image sensor to achieve a resolution of 2000 TV lines to bring the sporting action detail to life. It is ideal for a variety of production applications, such as broadcast studio, live events and eSports.
The system incorporates an AK-UC3300 camera body and when connected to the AK-UCU600 CCU it creates a very flexible system for broadcaster operation with 12G-SDI output, TICO over SDI output (4K over 3G-SDI output) and SMPTE ST2110 output supported as an option.
To capture the rapid movement of intense sporting action, the AK-UC3300 features 2x high-speed HD shooting modes, with skew reduction, which is realised through high-speed scans operating at 1/100 of a second.
With broadcasters having to operate with socially distanced and skeleton teams of staff, the camera system has also been developed with a new Remote Operation Panel (AK-HRP1015GJ) with a colour LCD readout that allows GUI operation and also supports PoE+ and IP control. It allows up to 99 studio or PTZ cameras to be controlled from a single unit. The camera is also compatible with the existing Panasonic AK-HRP1000/AK-HRP1005 Remote Operation Panels, giving more flexibility and broader choice.
You mentioned a second new camera system as well?
Yes, the second new camera system is the Panasonic AK-HC3900 (pictured left). This is more of an entry-level and cost-effective system that is also ideal for sports coverage and is future-proofed with the option for a future 4K upgrade. The HD camera system utilises a native 4K sensor which delivers a quality picture with multi-format capability.
The HC3900 introduces a new CCU in the AK-HCU250, which includes 3G trunk and 3G prompter functionality. The new ROP – the HRP250 – is powered over PoE for straightforward installations, and both are equipped with SD card slots to store various settings for multi-camera set-up to capture the action from a variety of different angles.
You've talked about the ability to visually capture the thrill of the sporting action but what about the increased use of augmented and virtual reality to create a more immersive sports broadcast?
I think one of the long-term impacts of the pandemic has been to accelerate the use of AR and VR technologies. It has been an effective way to create an immersive studio environment and enhance the viewing of sports events in empty stadiums. For example, the NBA has used the technique incredibly innovatively to create virtual crowds in its stadiums for viewers. They have invited fans to watch the game, in real-time, through live stream and show their reactions inside the arenas.
Panasonic technology can enhance virtual environments with even more benefits. Our AW-UE150 and AW-UE100 PTZ camera support FreeD protocol for AR/VR productions. In additions, the two new camera systems we spoke about earlier both benefit from the use of a Super 35mm single MOS sensor, and can therefore make use of moire suppression software to resolve issues when using LED backdrops.
The camera systems feature support for the creation of hybrid worlds whereby both the physical and digital world can be bridged together, meaning that the picture is non-obtrusive when used within a virtual environment. I can only see this technique becoming more and more popular in sports broadcasting as we move forward.
Finally, do you see any other trends emerging from this unique period?
We shouldn't overlook the incredible growth of esports and the distribution of content over social media platforms such as Twitch. Latency issues and the cost and additional time required to convert live and computer images for frequency integration can be a challenge for broadcasters. Panasonic has already addressed these challenges in its latest systems for broadcasters. With our equipment, there is no or very low latency and no need for time-consuming and costly conversion. We are esports and direct streaming ready and have already seen the widespread adoption of our camera systems by esports broadcasters across Europe.