Dream Chip speeds ahead with super slow motion Atom one SSM500 camera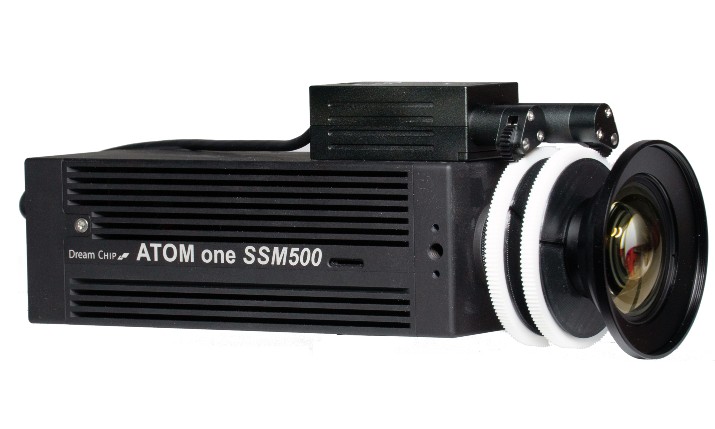 Dream Chip Technologies has added the Atom one SSM500 to its mini camera range. A super slow-motion camera capable of recording 500 frame per second in full HD, the ATOM one SSM500 is the smallest high-speed camera on the market, according to its manufacturer, measuring 190mm x 60mm x 60mm.
Because of its size and form-factor, the camera is said to be particularly suited to sports broadcasting.
Compatible with both B4-Mount and C-Mount lenses, the Atom one SSM500 will shortly offer IP control along with standard RS 485 connection and use open protocols so that it remains compatible with a range of remote control options from vendors such as CyanView, Skaarhoj and Antelope.
"Enabling our customers to tell their story in a different way is what lies at the heart of our development process," said Peter Schaper, the chief executive of Dream Chip Technologies. "We want our products to be as close to the action as possible; to catch every tear and drop of sweat."
The GUI shipped with the ATOM one SSM500 also enables the connection of up to 99 other Dream Chip cameras, allowing for control of all the expected image output options; from elements such as framerate and resolution, to memory and recording buffer status, to white balance and exposure.
The Atom one SSM500 also has multi-matrix colour correction to ensure perfect match with other cameras being used during a broadcast.
There are two different operational workflows: the first allows for super slow motion capture through 2, 3 or 4 phase connection to any server, facilitating capture at up to 240fps.
Alternatively, a 'trigger' mode can be used, giving the ability to capture up to 60 seconds of 500fps footage, which is stored in the internal memory.
Stephane Ducobu, sales director for Broadcast Products Worldwide at Dream Chip, added: "Super slow motion is an amazing tool for not only displaying technical detail – for instance, analysing player movements or team plays on a detailed level, but also for adding emotion and intensity to a production, making it more compelling for the audience.
"The ATOM one SSM500 does this in a way that is far more cost-effective than any other offering on the market, and easy to integrate into existing workflows".