ISE 2017 Wrap-Up: Lawo debuts the V_pro8 video toolkit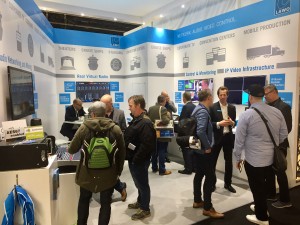 At this year's ISE show in Amsterdam Lawo debuted its V__pro8 8-channel video processing tool armed with a comprehensive software update. With its latest update, Lawo's V__pro8 became even more powerful, further increasing its features-per-RU density. Amongst the latest additions is an updated A/V sync tool, which, in addition to the native V__line sync pattern and the EBU pattern, can now also read the Vistek VALID8 format. Furthermore, the integrated quad-split multiviewer now also features multi-colored Tally lamps, which are switchable via Ember+, allowing to integrate the MV tally in the overall tally system of your installation.
The V__pro8 is a tool to connect different video formats as well as to connect between audio and video. High quality format conversion, colour correction as well as audio embedding and de-embedding make the V__pro 8 a compact video processor, building bridges between different worlds and formats.
The video/audio router of the 19"/1RU device provides an internal 8×8 video routing matrix and a 384×384 audio matrix. The in-built frame-synchronisers sync the incoming independent free running signals to the same reference (Blackburst or TriLevel) whereas the variable video & audio delays for compensating latencies and lip-sync match between incoming or outgoing audio (up to 320 ms delay) and video (up to 8 frames delay) signals. In order to automatically compensate for the internal video latency there is an internal AudioFollowVideo delay mode available.