AMP Visual TV at full speed for Le Mans race with fibre, EVS C-Cast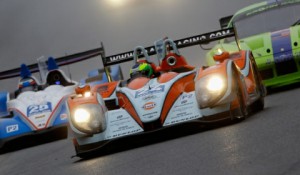 The 24 Hours of Le Mans race, with a racing circuit that is 13.629 km long, continues to be as much of a challenge for Eurosport and production partner AMP Visual TV as it is the drivers and crews. But it is also an example of the continued importance fibre optics and on-board cameras play in a broadcast that last so long and requires ever-changing visuals to keep viewers entertained for long, long stretches.

Four years ago, the Automobile Club de l'Ouest (ACO) announced its intention to install fiber–optic wiring throughout the racing circuit in order to transmit secure and quality video signals from the cameras.
"We took this opportunity to rethink our set-up in order to make use of fibre optic technology," explains Fabrice Miannay the AMP Visual TV sales manager for the event which took place on June 16-17. ."Also, thanks to this installation, we have been able to produce in HD."
The production relies primarily on Sony HDC-1500 cameras situated throughout the circuit and connected directly by the fibre network to the L'Enterprise OB truck (L'Entreprise) that produces the international signal for distribution around the world. The flagship OB unit for AMP has two Grass Valley Kayak vision mixers, a Studer Vista 8 digital audio console, eight six-channel EVS servers, Sony monitors, and more.
In addition there were 10 in-car HD cameras that rely on 27 wireless paths to get onto the fibre network for delivery to the trucks. The on-board cameras are from Kappa, a German manufacturer of CCD- and CMOS-based miniature camera systems and the use of the fibre network means that helicopters and aircraft are no longer needed as receive sites for the in-car camera signals.

Eurosport International also had a set with three cameras and a stand up position. In addition to filming the race, AMP Visual TV supplied various services to the car racing teams as well. Audio had more than 140 sources situated in 12 different places throughout the circuit.
And Internet delivery of such a long race is also more important. STREAM FACTORY, a subsidiary of AMP Visual TV dedicated to new applications and Internet broadcasting, encoded the video signals for ACO's online TV. However the new and very interesting feature at this year's edition of the 24 Hours race was demonstrated behind the scenes and in certain VIP areas.
"The idea was to have an array of functions on tablets in order to make intelligent use of the incredible number of images available on the eight EVS servers," says Guillaume Allais in charge of products for STREAM FACTORY.
The use of EVS C-Cast allowed for a dedicated table application to be created so that fans could follow the live streaming on an iPad or Android and also replay an unexpected event from an angle chosen by the viewer.