AriSports digital prediction platform crowned winner of BT Sport's Innovate 21 competition
A squabble between two siblings over Neymar's controversial dribbling during the 2018 FIFA World Cup has resulted in a digital prediction platform that could shape the way that future audiences interact with live sport.
Last week at BT Sport's studios in Stratford, East London, AriSports co-founders Rassim and Djewed ('Djo') Hariz were crowned winners of BT Sport's Innovate 21, a competition for entrepreneurs and startups that seeks ideas for new sports broadcasting and live matchday experiences.
Manchester-based Rassim Hariz's winning pitch involved transforming live sports content and match highlights into an immersive gaming experience.
As the winner of Innovate 21, AriSports has gained the opportunity to work with BT Sport to develop its technology for future use.
The original idea for the tech came out of a heated debate between the French-Algerian brothers three years ago, over whether Brazil's Neymar should have dribbled for so long during a FIFA World Cup game against Colombia.
Rassim recalls: "We had an argument about what the best sequence should have been and it was at that point that Djo realised that there's no independent third party to assess the football talent of a TV viewer – or for any other sport – and it all started from there…"
The brothers, both environmental engineers by trade who are passionate about football and gaming, teamed up with Guillaume Panot, founder of Singapore-based fan engagement consultancy Harpan Sports, to help shape the product and work as AriSports' technical lead.
The resulting tech claims to be 'the world's first digital gateway between fans and live game' – comprising a gaming overlay designed for mobiles that enables viewers to watch live matches and put themselves in the boots of up to two of their favourite players.
Viewers are able to control these players' movements in a 'gamified' version of the live match or highlights package, tracking their players' movements in real time and making their own decisions about what to do when the ball comes their way.
These choices can then be compared to the 'real life' ones made by the players, as well as to the choices made by fellow viewers.
Rassim adds that correct decisions would be assessed and predicted by an AI engine during live matches, which will pull in sports analytics data provided by companies such as Sportsradar and Opta Sports.
"The next level is beating your best player and guessing the next best move of every single sequence better than Ronaldo, better than Harry Kane," he adds.
According to Rassim, successful at-home players could be awarded prizes and, further down the line, the company has ambitions to develop a fantasy gaming league with trading cards and its own currency.
Rassim says that the experience could be scaled up eventually to become a multiplayer game; while the rollout of 5G could also enable it to be extended into stadiums for a live play-along experience.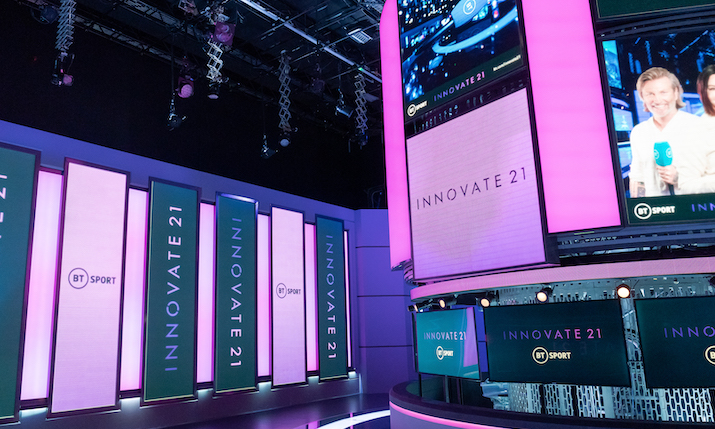 As well as increasing fan engagement and attracting younger generations of viewers to live events on BT Sport, Rassim says that the app complemented existing BT Sport Matchday Experience features, such as the recently rolled out Manager Mode, which gives real-time data insight, and Hype Mode, which offers enhanced graphics around individual players.
"We think the natural transition would be to go to 'Gaming Mode' – based on a gaming overlay SDK," he says.
Rassim also explained to a Dragon's Den-style panel led by BT Sport chief operating officer Jamie Hindhaugh and director of mobile strategy Matt Stagg that while football was the flagship sport, cricket, rugby and basketball were some of the other sports on their roadmap.
On choosing a winner, Hindhaugh says that he was impressed with AriSports' understanding of what BT Sport wanted to achieve with its app and he was particularly interested in the live element of the firm's prediction platform.
"You can see it's a natural evolution in terms of where we are going," says Hindhaugh. "There's definitely a challenge around new audiences coming through and staying with content – I think you can no longer turn a TV screen and point people at it and expect them to sit and watch it."
Stagg says:  "We also liked that AriSports wanted to work with us, they knew that there was a partnership there, it's about working together on something really innovative."
While AriSports claimed that it would be able to turn around a working demo for live matches within 12 weeks, Stagg says that the sports broadcaster would work on the product "for as long as it takes to get it right", using Paul Bojarski's Sceenic as a case-in-point.
Sceenic, the 2018 winner of what was then called the BT Infinity Lab Competition, is a co-viewing app, which was further developed in partnership with BT Sport over a two-year period before launching as Watch Together on the BT Sport app Match Day Experience last year.
"We did trials to get Sceenic right – if you launch new things that people haven't seen before and don't get them right, then audiences don't go back to them," says Stagg.
Besides the BT execs, the rest of the panel comprised a trio of BT Sport presenters: former Wales midfielder Robbie Savage, former Ireland rugby captain Brian O'Driscoll and motorsport commentator Suzi Perry – who also fronted nine seasons of the BBC's Gadget Show.
Lucy Hedges, the Metro newspaper's technology editor, completed the panel's line up – and all were universally enthused by AriSports' entry after taking part in a live demo.
O'Driscoll says: "For the next generation gaming is such a huge component and Arisports' idea is a fun, clever piece of tech innovation where you're going to get the attention of people whose attention spans are not very long!"
AriSports was one of four shortlisted companies to take part in the final pitch from an overall total of 70 entries.
Other contenders included Sport Buff,  an app that pushes out a series of swipe-able pop ups – known as 'buffs' – over live matches that can deliver predictions, polls, trivia, emoji sliders and VIP experiences.
Fronted by CEO Ben Achilleas and COO Saskia Perera, the company claims to have 10 million users on various client platforms and the firm has made impressive inroads with sports organisations such as Formula E and basketball's BNBB and BCL leagues.
Peter Gough and Damon Garwood's Streaminsights meanwhile, is a B2B fan engagement platform that overlays live content powered by real-time data. The tech enables fans to predict the outcome of a 60-second sequence to gain points. It also offers competitions, betting, polls, heatmap infographics and contextual product placement.
Finally, Sport X's Sivaji Venkatasubramaniam from Shiridan Consulting presented an app designed to integrate multiple group chat functions with social media platforms.
Hindhaugh wrapped up the event by concluding: "We were extremely impressed by the quality and ingenuity of the innovations on display at the Innovate 21 final.
"I would like to congratulate AriSports on being crowned worthy winners. Its proposal is an ambitious platform that will offer fans an immersive experience and we look forward to working with them in helping harness its potential."
The winner of BT Sport's Innovate 21 competition was officially announced today (28 September) at 1pm UK time.