Audio-Technica joins SVG Europe as a Gold sponsor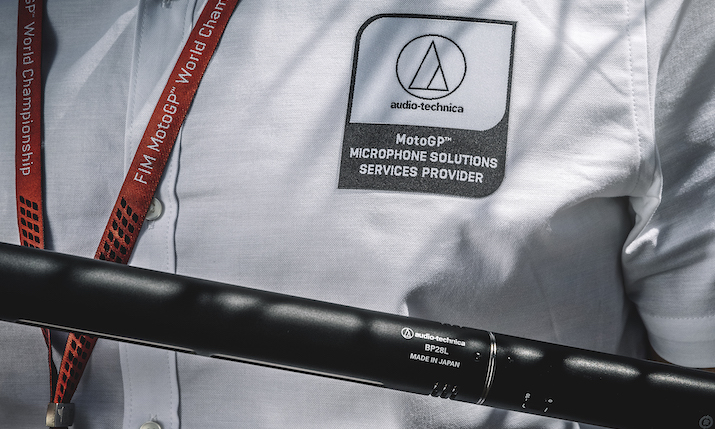 Audio-Technica has joined SVG Europe as a Gold sponsor. The company has an extensive history in sports broadcasting, with a decades-long involvement in microphone supply and support for some of the world's largest sporting events.
In 2019, the company was appointed official Microphone Services Solution Provider to MotoGP – the Grand Prix motorcycle racing championship – by Dorna Sports, the commercial rights holder of MotoGP. Audio-Technica microphones, wireless and headsets, are now used in everything from trackside audio acquisition and onboard the bikes themselves to pre- and post-race news conferences.
In addition, nearly three seasons of extensive prototype testing has resulted in Audio-Technica's 8.0 Microphone Concept being adopted at MotoGP, to deliver immersive audio from locations including the podium, parc fermé, pit lane and key positions around the racetrack. Dorna Sports has moved to make the 8.0 microphone a core audio component of its future programme broadcasting, which includes ambitious plans towards remote production.
Located at Dorna Sports' Barcelona, Spain facility, the extensive remote production suite, which is planned to be phased in through the 2024 season, will include a custom-built 7.1.4 / 5.1.4 dedicated audio control room to mix immersive audio received from the track in real time.
On the decision to join SVG Europe, Rod Thomaz, project manager, broadcast partnerships, Audio-Technica Europe, said: "We're very pleased to join SVG Europe's sponsors for 2022 and look forward to the opportunity to share ideas and experience with other members. It's an exciting time to be involved in a broadcast space that is continually innovative and creative, and SVG Europe's role in connecting the industry is really valuable.
"Viewing audiences are increasingly demanding more realism and immersion 'in the moment' from the audio aspects of sports broadcasting. Audio-Technica has decades of experience in helping broadcasters to deliver everything from athletics to skiing to motorsport at the highest level, providing engaging audio that helps capture the excitement and emotion of the world's biggest sporting events."