BBC to stream Six Nations in space!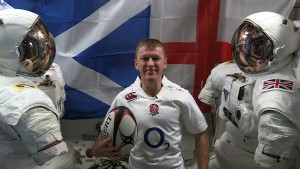 On Saturday 6 February, the BBC will make broadcasting history, live-streaming the Scotland v England RBS Six Nations match to British astronaut Major Tim Peake in the International Space Station. He will be able to watch the game 400km above the earth as the BBC and European Space Agency feed the game to him live in the space station.
Tim has just sent BBC Sport a photo from the space station as he gets into the spirit ahead of the game, along with a specially recorded message here. You can also follow updates from Tim tomorrow via his Twitter account here.
Philip Bernie, Head of TV Sport for the BBC said: "We've always tried to push the boundaries of broadcasting at the BBC, and streaming to space is an exciting first for us. We knew Tim was a massive rugby fan and now he can join the rest of the nation watching Scotland v England in the Six Nations."
Tim Peake, said: "I know that space is a hostile environment, but Murrayfield, for the old Calcutta Cup, that's a whole different matter. And Scotland has a fire in their belly; you could hear their World Cup rage from up here in space… May the best team win! Come on England!"
"The RBS 6 Nations is watched by millions of people across the globe and this latest development is certainly a new and exciting one," said John Feehan, Six Nations Rugby Chief Executive. "We are delighted that the BBC are able to bring all the action from the eagerly awaited Calcutta Cup clash between Scotland and England to keen rugby fan Tim and hope he enjoys all the action from the International Space Station."