Bernabéu gets connected with Cisco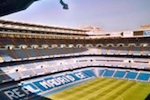 Real Madrid's Santiago Bernabéu Stadium is set to deploy Cisco's Connected Stadium Wi-Fi system, thus making it one of the most technologically advanced stadia in the world. Not only will it ensure fans will be able to utilise mobile devices to access applications specifically designed to engage with the venue and the team, it means that the web and social media will hopefully not fall over everytime somebody scores.
Encouraging fans to use the Connected Stadium Wi-Fi network for Internet connectivity will also help to free up cellular networks, allowing spectators to text and call throughout the games, something that can best be described as challenging nowadays.
Along with Cisco StadiumVision, the two solutions will allow Real Madrid C.F. and its sponsors to connect with fans in entirely new ways.
"We are always looking to have cutting-edge technology and security and to offer a unique fan experience," said Real Madrid C.F. CIO, Enrique Uriel. "When Cisco's Connected Stadium Wi-Fi and StadiumVision are available at the Santiago Bernabéu stadium, Real Madrid C. F. will take the fan experience at the Stadium to another level. These leading solutions will leverage all the potential of a state-of-the-art custom-built, high-speed network and new applications, thereby allowing us to connect and engage our fans in ways never seen before in Europe. We are excited to deliver a more customised game environment and provide fans with new options to interact and share their experiences via their mobile devices."
With the Connected Stadium Wi-Fi network, Real Madrid C.F. will be able to:
Allow fans to share their game-day experiences with the thousands of supporters at the Santiago Bernabéu, and with millions more around the globe, via social media applications easily accessible from their mobile devices.
Provide customised applications that create an immersive and interactive game-day environment, allowing fans to use their smartphones to engage Real Madrid in a more personalised fashion.
Help ensure consistent and reliable connectivity to thousands of fans by efficiently off-loading all data traffic and freeing up the entire cellular network bandwidth for phone calls and text messages.
Provide a new communication channel which Real Madrid staff will be able to use for security and operational purposes and other services, including a better service to the press and other media.
In addition to this, there's a whole spectrum of new possibilities to access content and engage with visitors during non-gaming days, especially for the Bernabéu stadium visiting tours.
The Cisco StadiumVision system, meanwhile, will provide Real Madrid C.F. with a centrally managed digital media system and network of HD screens. Here's the benefits in bullet point fashion again:
Existing brand partners, advertisers and sponsors will be able to engage fans taking advantage of highly dynamic and targeted HD video opportunities that could be customised during the game based on the area of the stadium. Video will also make it possible to capture the attention of all the spectators during a significant moment in time, such as a goal.
Spectators in hospitality suites will be able to enjoy the match in HD and take advantage of new services and customised content distribution by simply changing the channel using the interactive Cisco IP Phone located in the suite.
New multimedia and communication channels will be created in order to provide a better experience at the Stadium corridors, bars and ticket offices.
"Cisco is delighted to be working with Real Madrid C.F. in order to make the Santiago Bernabéu Stadium the most innovative in the country and a model of reference in Europe," says David Holland, general manager and senior vice president of Sports and Entertainment Solutions Group at Cisco. "Industry leaders need to think creatively about how they can utilise the network as the platform to change the rules of the game and further engage fans. We are excited to see Real Madrid continuing to lead the way."