Boat Race 2018: CTV OB opens up about camera kit robbery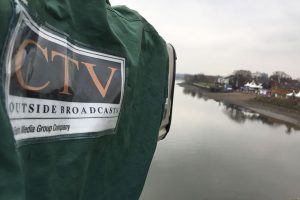 The theft of £150,000 worth of camera equipment two days before last month's Boat Race was the third of three attempted robberies faced by the camera crew that afternoon, OB firm CTV has revealed.
Talking to SVG Europe about the events that occurred during the technical rehearsal day for the BBC's coverage of the annual Oxford and Cambridge race on 22 March, CTV chief operating officer Bill Morris said that his company's camera positions along the banks of the Thames were targeted twice before thieves finally got what they wanted.
The first attempt saw a gang of thieves on mopeds attempt to steal a camera on Putney Bridge but this was thwarted by an off-duty policeman. A second effort saw a security guard forced to flee his post at the finish line by what is presumed to have been the same group of criminals.
On the third occasion, this time near Barnes bridge, a robbery was successful.
"We always have a security officer, we always chain down the equipment. But if people are armed with angle-grinders all that will do is slow them down."
An eight-strong gang, again using mopeds, stopped the traffic by turning circles in the road and then used power tools to remove kit with an approximate market value of £150,000.
The haul included a Sony HDC-4300 UHD camera, a Canon UHD 86:1 lens and a Vinten Fluid Head.
"They removed it from the tower, plonked it on the back of a moped and then drove off into the distance," explained Morris.
The theft occurred despite extra security having been added to this year's Boat Race set-up following an attempted robbery in 2017.
In Barnes, a security guard was posted to work alongside the engineer, camera operator and generator operator.
"Our kit is exposed so we go to some considerable lengths to protect it and the crew," Morris said. "We always have a security officer, we always chain down the equipment. But if people are armed with angle-grinders all that will do is slow them down."
Luckily, no one was harmed in any of the three incidents.
"Our priority and the BBC's priority is the safety of the crew," added Morris.
"The crew were briefed not to intervene. At the end of the day, equipment is equipment and can be replaced. We are always cautious of these sorts of things happening. To date, despite all of the hundreds of OBs that we conduct throughout the country and around Europe, we haven't actually faced such an aggressive attack before."
Everyone loses
Morris does not expect to see the kit again and, despite being insured, it will go down as a loss on the books as CTV, like most OB firms, faces high insurance excess costs.
The thieves are unlikely to benefit from the theft either, he added.
"I don't know if the criminals know that without an OB unit at the other end the equipment is useless to them. I assume that they'll find it has no value and either dump it or try to sell it into the market either in this country or abroad. [That said] if it was sold in this market, we would know about it."
CTV has circulated serial numbers for the equipment to the wider industry.
Despite suggestions from some quarters that the kit might have been stolen to order, Morris is not convinced.
"If it has, it's quite a specific order," he said. "But who knows? My instinct is that it is the magpie factor: it's shiny, it has a perception of value and therefore it is a target."
A spokesperson for the BBC said: "We always ensure there is adequate security in place to protect our staff and equipment. On this occasion, staff and security were outnumbered by the thieves who stole a camera. Our priority is the safety and welfare of our staff and nobody was hurt in this incident."
On being alerted, the Metropolitan Police launched an investigation into the theft from Barnes Bridge and the attempted theft from Putney Bridge.
The Boat Race, shown live on BBC1, sees rowing crews from Oxford and Cambridge universities race each other over 4.25 miles along the Thames from Putney to Mortlake. This year's race, on 24 March, was won by Cambridge.
CTV provided outside broadcast facilities for BBC Sport for the production.