Modus Super Series aims for double top with darts betting and broadcasting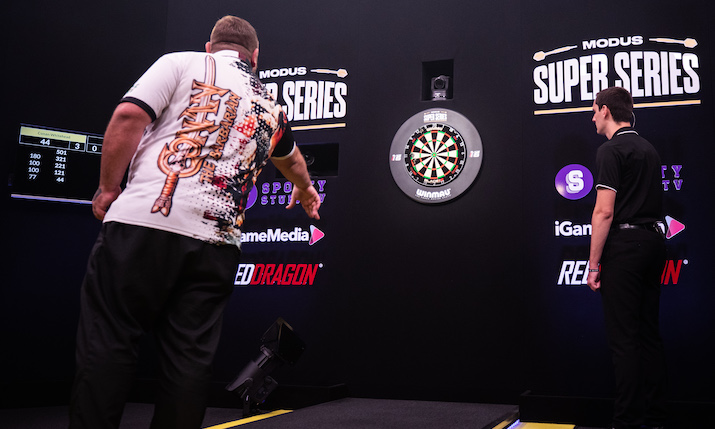 Launched in early September 2022, the Modus Super Series is a darts tournament with a difference. It plays in the same world as the tournaments organised by the Professional Darts Corporation (PDC) that you will find broadcast on DAZN, Viaplay, or Sky Sports, but it varies in several ways. For one thing, it streams over 100 games a week to a global audience. For another, it showcases matches by all levels of professional darts players, providing year-long support, developing talent and affording more opportunities. Finally, it has a dual focus on sports betting and broadcast.
"The Modus Super Series is the only daily darts broadcast in the world that provides content for live TV, streaming and over the top (OTT) platforms, providing coverage for both the consumer and bookmakers' markets around the globe," says head of operations Billy Lovell. "It's covered six days per week across 50 weeks per year offering 5,200 live matches per year."
Each weekly tournament features 12 players, competing from Monday to Friday to win a place in the finals group which is staged on Saturday evening. Matches are open to non-PDC Tour Card holders over the age of 18, as well as legends from the sport.
The company behind the Super Series has plenty of form in the darts world. Formed in 1997, Modus manages a wide roster of professional darts players and is an approved agent of the PDC. It's also an event management and promotion company, so is well-experienced at running darts tournaments and working closely with players.
"One of the biggest issues with covering 300 days of live broadcast for us [is around] staff and players," says Lovell. "We strive to keep the line-ups fresh and rota our staff accordingly. So far this year we have used 198 players, and this will be around the 250 mark by the end of Modus Super Series 2."
Straight in
The Super Series evolved from the Online Darts Live League, which started as a 'play at home' tournament during Covid lockdowns but with growing fan support moved into a production studio in Southampton, England.
"The Online Darts Live League was a great learning curve for all of our technical team and production staff," says Lovell. "The venue in Southampton was essential in our journey, helping us understand what is required to produce a live broadcast, from production equipment to directors, commentators and software along with data transfer, which we have upgraded along the way."
The technical partner to Modus on this journey has been iGame Media, which provides content production and distribution.
"We took the decision with Modus to invest in a multipurpose facility in Portsmouth and create a production group set-up that allowed for our long-term objectives," says Chris Cousin, commercial director for iGame Media. "We wanted to bolster this tournament and 'create a noise' [about it]."
"Although the coverage was of a good standard it became apparent to move to the next level, we needed to move to a bigger venue to help aesthetically," agrees Lovell. "The move also allowed for more space to add the additional multi-camera angles to move us into a full broadcast output, while also allowing us the room for a full lighting rig and broadcast sound output. This has massively improved production quality. Meanwhile, adding two commentators and a presenter has helped us move to a full TV broadcast production."
Seven cameras provide 4K coverage of the matches. "4K output quality is important to us – it's essential for the PresetMaster software that we use for our board shot selection," says Lovell.
"It's using the same technology [from Keytown Productions] that the PDC uses for broadcast services," adds Cousin. "[Using pre-set camera angles] it allows you to dynamically edit between areas on the board, to ensure you're always in front of what's going on, and where the players are going. It's quite intelligent software; we needed to invest in the same technology that the mainstream tournaments are offering to deliver a unified experience for the fans."
4K is also important as the dartboard is quite small, relatively speaking, especially when viewed on mobile. "It needs clear definition; to determine whether it's a triple or double or it's just outside, you need to be able to have that clarity," says Cousin. "We've seen a 13% increase in week-on-week viewership, based on the new production standard that we've delivered. So, I think it's working."
"We needed to invest in the same technology that the mainstream tournaments are offering to deliver a unified experience for the fans"
Lighting was also an important consideration for the new facility. "We wanted to ensure we created an atmosphere," explains Cousin. "It's all interactive with the play, so that if a 180 goes in, or the player wins, or a nine-darter is achieved, then the lighting and sound is in sync with the match play experience."
The venue in Portsmouth has an audience gallery, which fills up for the finals matches on a Saturday night.
"We make a point of trying to engage fans – we actively want people to cheer loud and make noise when players are walking on," says Cousin. "That extends to having an MC and some warm-up commentary onstage so that not only the fans in the venue but also the production audiences around the world can understand who this player is that's walking up on stage, what's going on and what nickname they've been given, and so on.
"All of that can be backed up with professional commentary – we have lip mics and a sound booth for commentators to ensure that we're always producing the highest quality commentary for the Series from key name commentators. One of the players is also a commentator: Chris Mason, a player turned commentator turned player again, so he's obviously great for the sport. As we evolve, so will the people who partner up with us in terms of supporting the vision."
There's an editing suite on site. "It's a fully managed in-house production," says Cousin. "Every day we've got two people operating the editorial element, just next to the commentators; they're slicing and dicing it live with replays for broadcast, YouTube and the socials. As part of our ongoing delivery, we're making sure that we're investing in the latest technology to deliver the best quality stream output, not only for the betting space, but for the broadcast space too, and equally providing video highlights and clips in real time."
Place your bets
"Low latency is key to our production, with bookmakers worldwide taking the coverage we have to ensure it gets to them instantly; iGame Media do an excellent job providing this solution for us," Lovell says.
Cousin says this is the key involvement of iGames Media: the ingestion of content and then the onward distribution to the broadcast and bookmakers' space. Indeed, he says the Modus Super Series was effectively born out of an opportunity to commercialise live darts content that provided a market for the betting industry primarily, and then the broadcast market.
"As a betting fan, your choices are limited from Monday to Thursday," he explains. "So we created a market opportunity to allow bookmakers to maximise their offering for their customers, and also then help broadcasters maximise their offerings during 'low tier' times when there's not much on; if you can put live sports on as opposed to teleshopping, that's a suitable replacement for a broadcaster."
"We provide all the ingest and encoding technology and distribution, so it's always suitable for betting. The key difference between that and broadcast is latency," he adds.
"Our position is [to provide] low latency stream distribution for the betting market to ensure that the fans are getting a real-world experience behind live, so their in-play betting experience – ie, betting as the match happens – is not screwed up because the video is so far behind the [betting] market. On the broadcast, it will typically be between six and seven seconds behind live, while on the betting stream it's around two seconds behind live."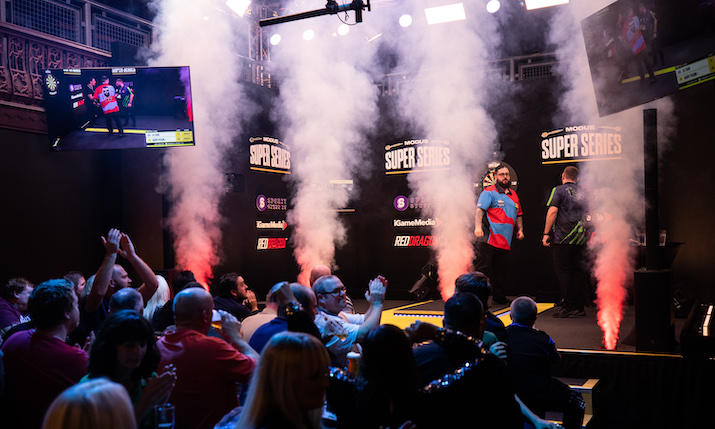 Data collection software has also been developed by iGame. "A scout is always in the venue; they're collecting data as they see the darts being thrown. That provides the bookmakers with a live feed that they can use to manage and create markets, settle bets and suspend markets when the data tells them the match is going a particular way. They use mathematical logic to create pricing based on our historical data performance."
Bookmaker access is controlled via a content delivery network (CDN) provided by Fastly.
"We bring in the content and encode it in the cloud using Oracle and a server called Nimble that delivers the formats that an operator needs, using our API," explains Cousin. "Bookmakers will then call our API to return the stream URL to embed on their website for distribution or display purposes. The CDN that we make it available on will distribute that based on the geographical location of the user."
Perfect score
With a number of major betting operators now streaming the action each week, the Modus Super Series is being shown on Sporty Stuff TV and across YouTube. YouTube viewing figures alone are up 21% since the Super Series succeeded the Online Darts Live League, while weekly watch time is also up 47%.
"Our aim is to continually improve our production, equipment and know-how," says Lovell. "The ambition is to spread the broadcast around the globe, delivering the Modus Super Series to as many platforms as possible. Partnership growth is a key area we are looking to target."
"For me, the production needs to go further in terms of how we really engage with the crowd – how we get the referees to spell out the 180, make a little bit more song and dance about that – and how we constantly keep the crowd engaged with it," says Cousin.
"We've got access to international players; we now need to be able to showcase those international players in their countries," he adds. "We've identified a number of broadcasters that may benefit from taking us. So essentially the 2023 objective is to get the Super Series rolled out more internationally and to grow."