BT Sport takes distributed remote production to new level for Bundesliga
Five live concurrent games broadcast this Saturday with less than ten people in studio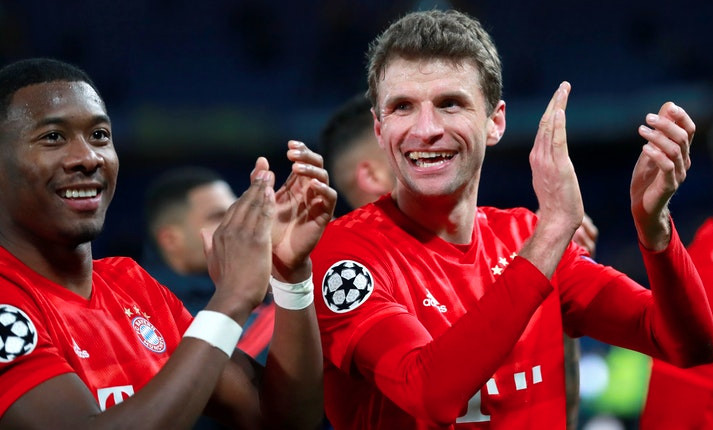 BT Sport will broadcast live coverage of every game from Germany's Bundesliga until the end of the season, starting this weekend covering five live games concurrently on Saturday afternoon.
The production operation will be driven almost entirely from home, with less than ten people in the studio for live match day coverage that would normally see 50 to 60 people in BT Sport at Stratford.
All nine games in the top flight this weekend will be shown exclusively in the UK on BT Sport as the Bundesliga becomes the first major European football league to resume competitive action. The Bundesliga Goals Show will bring viewers action and goals as they happen during Saturday's Bundesliga games.
The five live games at 2:30 this Saturday are Borussia Dortmund vs Schalke on BT Sport 1; RB Leipzig vs Freiburg on BT Sport 2; Hoffenheim vs Hertha Berlin on BT Sport 3; Augsburg vs Wolfsburg on BT Sport Extra 1; and Fortuna Dusseldorf vs Paderborn on BT Sport Extra 2. Meanwhile the Bundesliga Goals Show will run concurrently on BT Sport Extra 3.
BT Sport's chief operating officer Jamie Hindhaugh exclusively discussed the new distributed remote production model with SVG Europe. We began by asking him to outline the approach to the restart of premium live sport on BT Sport since the coronavirus pandemic lockdown two months ago.
"I don't like the word 'restart', I prefer the word 'evolve' from what we've been doing. It will be no surprise to you that everything we've been doing in the last six to eight weeks features very heavily this weekend," he said.
"The best way to talk through it is to go to Saturday at 2.30, when there will be five live concurrent games. Let's call them 1 to 5.
"Game 1 will be hosted by James Richardson at the BT Sport studio in Stratford with one guest in the studio, who is Raphael Honigstein. His second guest, Owen Hargreaves, will be at his home.
"That's where any similarity to our normal output ends, because with social distancing we're minimising the number of people on-site. Two of the cameras will be locked off. We will have one jib. The gallery that drives the show, which is physically in Stratford, will actually be operated from people's homes. The director will be in his home, the producer in his home and so on.
"There will be a presentation-quality look and feel you would expect from BT Sport, but for the whole thing there will be less than ten people on-site and that includes the on-screen presentation team. We would normally have 50 to 60 people on site for this type of production, for five concurrent games plus studio wrap.
"So that's how we are operating the gallery, which comes from the learning we have made over the last six to eight weeks. But there's an additional overlay because the commentary for that game will be live, with a commentator and a co-commentator.
"The commentator Paul Dempsey will be broadcasting live from his home in Northern Ireland and the co-commentator Steve McManaman will be at home in Liverpool. They will be able to talk to each other as normal, but broadcasting live over the game from those home locations.
"That's the main game. We'll do an hour-long wrap of that game and then we'll go into the 5:30 game with the same setup, except the co-com will be Martin Keown from home. And that game will be broadcast on BT Sport Ultimate in 4K as well.
"Going back to 2:30, Games 2 and 3 are being produced live completely from home through a 'gallery in a box': two people, one producer/director and one multi-skilled technical operator, from different homes. And the third person involved in those two games is the commentator, also based from home. And then for Games 4 and 5 we will take the world feed with English coms and put them to air.
"So quickly doing the maths, you can see that the number of people involved is very much diminished. And the whole production operation is all taking place from people's homes.
"You can also see why I call it 'evolution', because it is building on all the different aspects we've been working on over the last six to eight weeks, to enable us to provide the same treatment as we were doing from our studio based programming in our coverage of live sport.
"The situation we found ourselves in has actually fast-tracked our aspirations. As you know we've always identified this creative opportunity, but this has fast-tracked us – especially in sustainability, which is such a key thing. You can see the difference in impact in sustainability with this model, compared to the 'old way of working', as I see this as the new normal."
What are some of the issues you've had to iron out or perhaps unforeseen things in the evolution of this distributed remote production model over the last number of weeks, that have now enabled you to go ahead with live coverage of the Bundesliga this weekend?
"I think primarily, making sure you understand the connectivity that people have in their different homes and making sure that they know how to prioritise bandwidth," said Hindhaugh. "Obviously I make it sound simple, but Andy Beale and the Timeline team have worked very hard on all of these things. Being able to do EVS replay remotely is no small thing and I doff my cap to them as I always do.
"Timeline is an amazing company and our partnership with them is really strong. We've always talked about our strategic partnerships and how we all feel as one. Timeline does SailGP as well and they are very IP focused. They have been developing the app for the iPhone for a while, but obviously fast-tracked it. It's turning an iPhone into a broadcast camera and it's very clever! We benefit hugely from them as we do from Telegenic and from Moov, who are doing all our graphics remotely.
"Talkback is absolutely critical. By having talkback you don't physically have to be next to each other to be a team. That's key.
"But the two main challenges really are the cultural aspect – getting people to work differently – and also the confidence aspect. We're lucky in BT Sport in that we get a huge amount of support and trust in everything we do. And for everything we do we absolutely shake down and rehearse and practice.
"That's where any similarity to our normal output ends, because with social distancing we're minimising the number of people on-site"
"Because of those two aspects of culture and confidence you've also got to have a clear vision and that's something we've always had. We have a very clear roadmap and we think very hard about why we're doing this and how it will impact our audiences.
"When you put all this together, it's almost the other way around: why wouldn't you do it this way?
"We don't do things for short term fixes. When COVID-19 started we looked at it and, again, editorial strategy drove us. We wanted to reflect the situation our audience was in: we didn't want to be breaking rules or putting people at risk.
"That helped drive our narrative for where we are, and I'm still determined to ensure that our teams feel safe but always with one eye on the long-term. What is our long-term roadmap? How does this fit in?
"And actually, bingo – this accelerates what we were planning to do and we're looking at further opportunities. For instance, when the Premier League does come back we're not going to stop doing 4K or HDR. 8K is still on our roadmap, as is object-based broadcasting.
"And for all of those things, at the moment, the current situation almost enhances the requirement for them even more. Because if you can't be at a game, I think the picture and sound quality to make you feel like you are at the game will become even more important," said Hindhaugh.