Bundesliga re-start: Quality and precision were key, as thoughts turn to next season
The host broadcaster for the German Bundesliga, Sportcast, prioritised getting consistent, high quality and safe match coverage to air for the league's post-lockdown re-start, but it did also investigate various options for enhancing the behind-closed-doors coverage – and will do so again before the beginning of next season.
That is the view of Tim Achberger, the head of innovation and technology management at the Deutsche Fußball Liga (DFL) subsidiary.
Speaking at last week's SVG Europe Football Summit 2020, which was held online, Achbeger told delegates that "it's quite easy to talk about this now" but four weeks ago it was quite a different situation as Germany was still "deep in the pandemic."
This backdrop proved important to a decision-making process that resulted in host broadcast coverage that initially didn't feature what might be referred to as 'bells and whistles.'
Instead, revealed Achberger, Sportcast concentrated on the forensic planning and preparation that was needed in order to get coverage of the Bundesliga back on air
"As the first league back, we had to create a whole new book of regulations and new medical and organisational operations to ensure that the Bundesliga could produce the same quality of product as before the pandemic," he said.
"It was all just theoretical. We focussed on delivering a high-quality product in the same way that we did before. Therefore we had to ensure that we really clarified all media regulations, all operations on-site with OB vans and with freelancers."
"There were a lot of questions [to answer]. I was astonished how many people contacted us with ideas of how to enhance the audio or the interactivity. It was really an experience that I didn't expect."
Achberge acknowledged that a lot of thinking went into the re-start and that good communication was vital.
"Proving and ensuring that all parties knew what was happening and ensuring that [we could] do 18 matches over the whole matchday [was important]. We had a task force which was responsible for all questions. That worked out quite well because we could quickly answers [any queries].
The lack of atmosphere in the stadiums, caused by the absence of supporters, continues to be a talking point. Different leagues and broadcasters have taken quite different approaches to enhancing – or not enhancing – their match coverage.
Sportcast looked at various things but ended up sticking to the basics.
"We discussed a lot about this at the beginning," said Achberger. "There were a lot of questions [to answer]. I was astonished how many people contacted us with ideas of how to enhance the audio or the interactivity. It was really an experience that I didn't expect.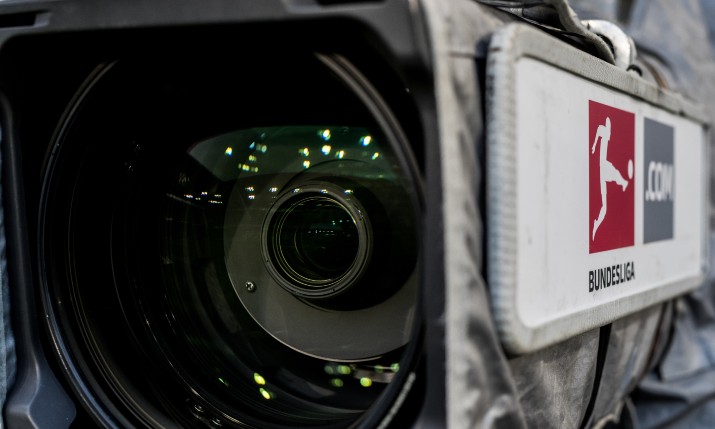 "From that point onwards, we talked with a lot of providers, especially in the field of audio to ensure that we proved this option. In the end we said, there are three options: producing audio in the stadium by itself; produce audio with pre-clipped examples of earlier games; or bring the sound of viewers from home to the live mix in order to enhance the original sound.
"In the end, we decided not to do anything because we wanted to ensure that everything worked out OK for the first matchday. There were so many regulations, so many different topics we had to work on. We checked interactivity features as well but we decided that, in the beginning, we decided to just focus on the importance of the real basics."
It isn't just audio augmentation that is possible, of course. La Liga has added virtual fans to stadiums, for example. Sportcast decided against that.
"As Bundesliga, we are always keen on presenting innovations but this was just not the right time," said Achberger.
"There was lots of discussion in Germany [at the time] about if this was even the right point to start playing again. Our slogan is 'Football as it is mean to be' but without our spectators, it was not the same experience.
"We have a lot of respect in Germany for the fan culture so we said we want to see how the people react. Sky Sport decided to start with enhanced audio. We decided from the second matchday to [provide it] for the international feed as well. In the beginning, we just wanted to respect everyone and ensure the basic of the production. That was the main goal."
With things having gone smoothly, thoughts are now turning to next season, said Achberger.
"All seven matchdays have gone really well. All produced under the medical and organisational regulations of the COVID period. We are confident that we can do this for the rest of the matches too. It is really important for us to now focus on the next season. There are a lot of learnings and I think we need to discuss these internally and understand which way do we want to discuss the product for next season.
"It will be exciting to see how other leagues plan to enhance and adapt their products. There are so many open questions and you only get answers when you try things out. I think we can learn from each other for next season, when there are no spectators in the beginning. We need to find a serial production for next season."
You can watch the whole interview below.
---
---