Canal+ providing PIQ content enrichment for boxing coverage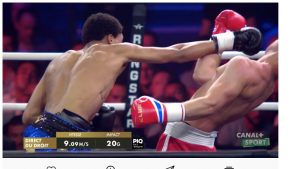 As the fierce battle for sports broadcasting rights between the French sports channels continues unabated, boxing has once again become one of the key sports for the pay channel Canal+.
"As always we would like to continue to provide our subscribers with value-added services in terms of our sports programmes. For example, this may include an enhanced immersive audio-visual experience for the television viewer or metadata enriched statistics. The PIQ application goes one step further in that it provides statistics that were previously unknown to the public and sometimes even to the athletes themselves," declared François-Charles Bideaux, sports production director for Canal+.
Canal+ editorial teams, Euromedia and Netco Sports technicians – along with the IT developers from PIQ – worked hand-in-hand to offer fans in front of their screens previously inaccessible key match statistics in real-time. These statistics can include, for example, the speed of a punch, its power, retraction time – or even the type of punch thrown. The goal is to provide a better understanding of the performances and specific characteristics of each boxer.
Connected sports set-up
In this elaborate set-up data is available in real-time thanks to the IoT component technology developed by PIQ  Sport Intelligence. This startup specialising in connected sports created a nano computer (PIQ Robot) that uses Artificial Intelligence to break down athletes' movements to the nearest thousandth. The system can analyse up to 195,000 data points per minute. The sensors are embedded inside the boxers' gloves and the retrieved data is then displayed during key moments of the match.
"We are currently working on numerous sports such as tennis, skiing, golf and kite-surfing. We collaborate with distributors in order to increase the added value of their programmes. But, more importantly, we sell our applications to the general public who can then measure their performances against their favourite champions. This contributes towards creating an active connected community," said Cédric Mangaud, CEO, PIQ Sport Intelligence.
Since its creation, PIQ has raised 16 million euros from Foxconn, Ginko Ventures, Orkos Capital, Swisscom and Almaz Capital. PIQ currently employs 67 people. The first boxing match using the PIQ technology was aired live by Canal+ at the beginning of the summer. It drew an audience of 500,000 subscribers. So could it be that other sports which receive less media coverage benefit from this tool, too?
"We hope that this valuable tool will help smaller sports that have less TV coverage than boxing become more known to the public. In fact, the displayed data is visually striking so it should help sports that initially seem less spectacular to receive better recognition," said Bideaux.
In whatever sporting context, however, "it is important to train the editorial teams in the proper use of the application. Television viewers should not be swamped with data and, most of all, commentators need to present it in a widely understandable way," concluded Bideaux.