Carey replaces Ecclestone as F1 CEO following Liberty acquisition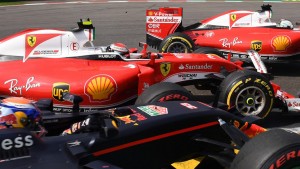 Liberty Media Corporation and Delta Topco, the parent company of Formula 1 announced Tuesday that Liberty Media has completed its previously announced acquisition of F1, from a consortium of sellers. F1 has appointed Chase Carey as Chief Executive Officer of F1, in addition to his existing role as Chairman, and Bernie Ecclestone as Chairman Emeritus of F1. According to formula1.com, Bernie Ecclestone 'will be available as a source of advice for the board of F1'.
Greg Maffei, President and CEO of Liberty Media Corporation, commented: "We are delighted to have completed the acquisition of F1 and that Chase will lead this business as CEO. There is an enormous opportunity to grow the sport, and we have every confidence that Chase, with his abilities and experience, is the right person to achieve this. I'd like to thank Bernie Ecclestone, who becomes Chairman Emeritus, for his tremendous success in building this remarkable global sport."
Chase Carey, Chairman and CEO of F1, said: "I am excited to be taking on the additional role of CEO. F1 has huge potential with multiple untapped opportunities. I have enjoyed hearing from the fans, teams, FIA, promoters and sponsors on their ideas and hopes for the sport. We will work with all of these partners to enhance the racing experience and add new dimensions to the sport and we look forward to sharing these plans overtime.
"I would like to recognise and thank Bernie for his leadership over the decades. The sport is what it is today because of him and the talented team of executives he has led, and he will always be part of the F1 family. Bernie's role as Chairman Emeritus befits his tremendous contribution to the sport and I am grateful for his continued insight and guidance as we build F1 for long-term success and the enjoyment of all those involved."
Bernie Ecclestone, Chairman Emeritus of F1, added: "I'm proud of the business that I built over the last 40 years and all that I have achieved with Formula 1, and would like to thank all of the promoters, teams, sponsors and television companies that I have worked with. I'm very pleased that the business has been acquired by Liberty and that it intends to invest in the future of F1. I am sure that Chase will execute his role in a way that will benefit the sport."