CBS and Turner up virtual-graphics ante with massive PGA Championship production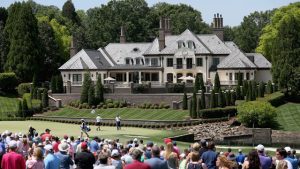 As the final major on the annual golf calendar — at least through 2018 – the PGA Championship has always offered CBS Sports and Turner Sports an opportunity to bring their technology A games to one of golf's biggest stages. That tradition continues this week at Quail Hollow Club in Charlotte, NC: the two broadcasters will roll out a host of virtual-graphics and ball-tracking technologies, an army of 80-plus cameras, and comprehensive audio coverage, and CBS Sports will produce 4K HDR coverage from holes 16, 17, and 18 for DirecTV's Green Mile Channel.
"This is a major show for us with a lot going on, so it's a humongous challenge technically — especially since we're always trying to integrate all of these new technologies into the multiple different feeds," says Ken Aagaard, EVP, innovation and new technology, CBS Sports. "Golf is a sport that has really been waiting for all this great new technology, and it's truly starting to come to fruition now. The PGA Championship is a great place to highlight a lot of these exciting new tools."
Virtual graphics galore
Virtual enhancements will play a bigger role than ever at this year's PGA Championship. For the first time, Trackman 3D radar tracking technology will be deployed on all 18 tee boxes to trace live tee shots on each hole, showing the apex, ball speed, distance, and curve.
"We've got a lot of experience with TrackMan by now; we've been using it on every tournament. But now we are going to use it on all 18 tees," says Aagaard. "For us, it's obviously a little bit more prep work, making sure we get all the systems and lines in the right places. But we've got that planned out, and it's going to be terrific to be able to have that data at our fingertips on every hole."
ARL Virtual Eye technology is back for a second outing — this time on a total of eight holes and with the ability to record and play back (previously, it could be used only live). Virtual Eye uses Trackman's ball-tracing capabilities on tee shots within a 3D hole model while simultaneously showing the golfer hit the tee shot; it also provides a flyover animation to give a second-shot perspective once the ball comes to rest.
"We're very excited to have [ARL Virtual Eye] on a lot more holes this year because it adds a whole other dimension," says Aagaard. "As a production tool, it's a great way to be able to show the viewer where the ball is going, and it gives you a place to be able to illustrate some of the new data we have, like ball speed, arc, and distance, which are really cool. And we're now able to do it in a way that fits right into the broadcast, which is what's most exciting for me: when we can put a technology into the broadcast and it feels normal, that means we're not forcing anything in. It adds a lot of production value; that's always been our goal."
CBS and TNT will also have two Toptracer (rebranded from Protracer when Top Golf acquired it) RF systems roving the course to provide ball-tracking graphics and stats on players' second shots from the fairway.
Beyond the linear telecast, Aagaard notes, TrackMan, ARL Virtual Eye, and Toptracer will be integrated across the various PGA Championship feeds, including the DirecTV multihole Mosaic, 4K HDR coverage, and PGA.com's Featured Group streaming feeds.
"Being partners with CBS," says Turner Sports Director, Technical Operations, Chris Brown, "we share a common vision and know that this is the next evolution [of golf coverage]. We're beyond just trying to put these [virtual-graphics] tools on featured holes here or there. It really needs to be across the board as much as possible now, because every hole is different and that's what we're trying to show. The idea has always been to enhance what the announce team is saying and give them better tools to tell the story."
More than seven dozen cameras and a Smartcart

CBS and Turner are deploying a whopping 83 cameras (plus Turner's three RF cameras for PGA.com Featured Group coverage) for live coverage from Quail Hollow.
"Overall, it's just a massive amount of cameras," says Aagaard. "The bunker cams are especially cool and give us some very unique perspectives. And, of course, we have a SwingVision [ultra-high-speed] system, which is one of our staples and, we think, is going to be very important this week."
The six bunker cams are Marshall miniature POV cameras provided by Admiral Video at holes 15 and 18; the SwingVision system is a Phantom V642 RF camera. Also deployed are a Flycam aerial system on the driving range, 15 RF cameras (including a Steadicam), and a blimp. In total, the production features 38 Sony HDC-4300's (one running at 480 fps on the driving range), 31 Sony HDC-2500's, a Sony P1, a Sony P43 (4K POV), plus the Phantom Cam. In addition, aerial drones were used for course previews to capture the elevations, undulations, and hazards of Quail Hollow.
On the replay side, the CBS/Turner production has 23 EVS XT3 replay systems on hand, along with five EVS XT4K's serving the DirecTV 4K show.
Smartcart, which was introduced at last year's PGA Championship and has become standard in CBS Sports' golf coverage, is also onsite in Charlotte. The 72-in. mobile screen, attached to a custom-fitted golf cart of broadcast applications, will be used to analyse and telestrate a myriad of data, including golf swings, hole difficulty, and scorecards. The Smartcart will also be used for CBSSN's PGA Championship on the Range show.
"We've been using Smartcart every week, and, now that we have a dedicated reporter in Amanda [Balionis], [we've] taken it to the next level," says Aagaard. "We've also been able to do some very cool things with FingerWorks, who has helped us take a lot of the data and utilise highlights within the touchscreen on the Smartcart. So it's become a very special tool for us to use out on the course."
The army of production trucks in the compound at Quail Hollow is led by NEP SSCBS, CBS Sports' four-truck system working its second PGA Championship. SSCBS is handling the back-nine production, while Game Creek Video's Encore and Edit have the front nine and main show, respectively.
Joining them in the compound are NEP ND7 (DirecTV Featured Group 2 and CBSSN On the Range in separate control rooms), F&F Productions GTX-18 (DirecTV 4K HDR production on holes 16-18), NEP TS2 (Turner's Featured Group 1), and NEP ESU (signal distribution). Also on hand are BSI's truck for RF needs and an HFI (Husney Farrell Inc.) trailer for executive viewing and QC. Filmwerks is powering the entire compound.
All CBS/DirecTV video distribution will be done via IP. SSCBS and Encore will tie 22 ports from their respective Evertz EXE routers to create 132×132 video-signal shares. Meanwhile, ND7 and GTX-18 connect to SSCBS via external IPG 570 cards.
"NEP and Game Creek Video have collaborated on a Layer 3 networking plan that allows key pieces of equipment, such as CCUs and intercoms, to be accessed and controlled from any position," says CBS Director, Remote Engineering, Mike Francis. "This is a major time-saver for setup and strike, as it prevents us from having to re-IP equipment in the various trucks."
In terms of audio, a Calrec Hydra2 network enables flexible and redundant sharing of audio sources between trucks.
Intercom trunks established through a central frame in NEP's ESU truck allow mobile units to talk to one another through this frame. There is also some peer-to-peer connectivity for additional redundancy.
"The relationship between Turner and CBS operationally is a fantastic one," says Brown. "I think that's demonstrated in how seamless our operations are. It obviously starts with Ken [Aagaard], Patty [Power, EVP, operations and engineering, CBS Sports], and Tom [Sahara, VP, operations and technology, Turner Sports] and trickles down from there. And now Mike Francis has come on board as CBS's head of engineering and has been a tremendous asset to both CBS and to Turner. Across the board, it's been a fantastic collaboration, as it is every year."