Channel One Russia provides live news Grand Production with Lawo
Channel One is Russia's most popular TV channel. For two control rooms dedicated to its 24/7 live news service at the gigantic Television Technical Center in Moscow's Ostankino district, Channel One installed two full-DSP-option Lawo mc²96 Grand Production Consoles with 72 channel strips and over 800 DSP channels each as well as two 12-fader, fully-featured Lawo sapphire mixing consoles for backup-purposes, along with fit-to-spec Nova 73 DSP cores and DALLIS stageboxes in an ST2022-7 redundant configuration for both the mc²96 and the sapphire consoles.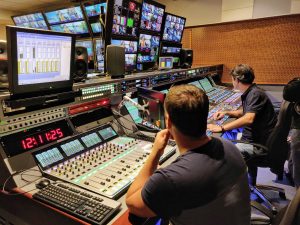 The new Lawo system handles the audio part of Channel One's news show, 'Time', Russia's most-watched news programs, which is manned day and night and airs live content during the whole day. Additional applications for the massively spec'd mc²96 consoles include live coverage of high-profile events like the '9 May/Victory Day', 'Immortal Regiment', etc., parades, which last up to five hours.
"Pristine audio quality was clearly the most important consideration for selecting Lawo equipment," explained Ravil Haerdinov, Channel One's main sound director of the Information Programs department. "But we also needed raw processing power in an intuitive, user-friendly format."
With the mc²96, the mc² platform culminates in a pure audio production tool with a feature set for a variety of applications (broadcast, theatre, recording). The mc²96 provides optimised performance within IP video production environments with native SMPTE 2110 support.
Its LiveView feature enables thumbnail previews of video streams directly in the fader labeling displays. In addition, the mc²96 stands out with other user-centric features that allow it to shine in control rooms like Channel One's, where 24/7 live operation demands maximum availability, zero failure. One feature deemed especially important at Channel One were the six assignable free controls per channel strip that allow operators to use the console in a near-analog fashion.
Snapshots, Channel Isolation, the console's intuitive layout and the ability to store backups rank among the mc²96's additional fortes. The presence of seven Lawo V__pro8 video processing units with audio embedding/de-embedding means that Channel One is able to fully leverage the convenience of the mc²96's LiveView functionality of video thumbnails for intuitive channel identification by operators even in hectic situations. Likewise, the console's Fader Notch function was programmed to click at 0dB, allowing audio engineers to take advantage of the Fader Start function and intuitively find the 0dB setting without looking at the faders.