Clear-Com Eclipse HX digital matrix system deployed for comms at Formula E Championship in Italy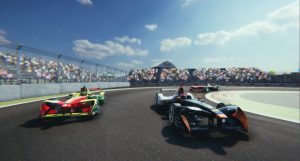 Distributor Audio Technica has provided HDwireless, a German wireless specialist, with an all-IP intercom solution based around a Clear-Com Eclipse HX digital matrix system to enhance its inventory of wireless communications solutions.
The system comprises of an Eclipse HX-Delta matrix frame with 4-wire and IP ports to accompany FreeSpeak II IP transceivers in the DECT range, FreeSpeak II beltpacks, Agent-IC and the new V-Series Iris intercom panels. The new system also enables HDwireless to realise complex wireless intercoms over AES67 networks.
Patrick Nussbaum, MD, HDwireless, said: "We looked at all the systems available on the market, and the Clear-Com Eclipse HX matrix system convinced us with its reliability, stability and quality. Also important to us was Clear-Com's long experience in implementing intercom, wireless communications and system integration.
"We can now react much more flexibly to the requirements of our customers," Nussbaum continued. "The Eclipse HX system gives us options for connecting wireless devices, internet communications and UHF connectivity."
The new system has already been successfully deployed for several productions, including the recent Formula E event in Italy.
"Our experience so far with the system has been exceptionally good," said Nussbaum. "Our customers praise the reliability and sound quality of the Clear-Com intercom system as well as the integration into the overall production. We can now offer our customers an excellent wireless, all IP-based intercom in addition to our worldwide camera division – a perfect complete package that is very well received in the marketplace."