EBU members report climbing audiences for Tour de France coverage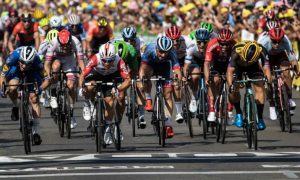 The Tour de France is reporting high audience figures according to member broadcasters of the EBU.
The 2019 Tour de France is being hailed as one of the most exciting editions since the end of the 1980s, with particular excitement during the two Pyrenees stages on Saturday 20 July (Tarbes – Tourmalet Barèges) and Sunday 21 July (Limoux – Foix Prat d'Albis).
As the competition grows fiercer and fiercer between national cycling heroes from various European countries, including France (Alaphilippe, Pinot), UK (Thomas), Netherlands (Kruijswijk), Germany (Buchmann), Spain (Landa, Valverde) and Denmark (Fuglsang), European fans have been watching the leaders on their public service media platforms during the weekend, as well as on Eurosport throughout Europe, resulting in strong ratings.
From the start of the 2019 Tour de France in Belgium, to the Pyrenees via Toulouse, audience performance has seen an increase, most notably in Belgium (Flemish and French) and Italy. In these three markets the top average audiences have exceeding those in 2018 on VRT (+13.0%), RTBF (+23.8%) and RAI (+17.6%).
For stage one held in Brussels, celebrating the 50th anniversary of Eddy Merckx's first Tour de France victory, RTBF (French Belgium) beat its best average of 2018, with 326,000 viewers tuning into on La Une, corresponding to 49% marketshare.
There have been over two million average viewers in Italy on RAI (RAI 2) on Saturday – a total of 2.3 million – with a 20.2% marketshare, with audience peaks on Saturday of two million in Spain on TVE (La1). In Germany, ARD recorded average viewers of 1.5 million (Saturday) and 1.7 million (Sunday). There were also over one million average viewers in the Netherlands on NOS (NPO1) on Saturday and Sunday, with marketshares above 56% over the weekend. In Denmark, a 66.6% marketshare was reported for TV2 on Saturday and a 56.9% marketshare on Sunday with a 0.7 million peak audience. Belgium's VRT saw a one million peak audience on Saturday on EEN, with a marketshare of 59.4%.
Frédéric Sanz, head of cycling Eurovision Sport, said: "We are very proud of our long standing relationship with ASO and it is exciting to see such a historic event as the Tour de France attracting high audiences via the unrivalled exposure delivered by the EBU Members. The race continues to captivate the imagination year after year, with these figures proving its enduring appeal to sports fans across Europe."
Julien Goupil, media director A.S.O added: "It is great to see such high audience interest in this year's Tour de France. The coverage from EBU Member broadcasters is second-to-none and brings audiences right into the heart of this gruelling challenge. On the digital side, both EBU members' and Tour de France own platforms and social media channels are enjoying substantial consumption growth of their key metrics.
"Through our partnership with Eurovision Sport and also thanks to the strong domestic performances on France Télévisions (average audiences of 3.4 million with 5.5 million average viewers on 20 July, with a peak at seven million), we are able to offer the Tour de France to wide audiences. With approximately two minutes splitting the top six leaders and still the Alps stages to come, all the ingredients are there for a thrilling spectacle for cycling fans."
Eurovision Sport is a division of the European Broadcasting Union.