Cubic Production on the road for live sports in the UAE with 20 LDX WorldCams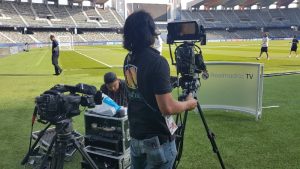 Cubic Production, one of the fastest growing television broadcast and production companies in the United Arab Emirates (UAE), has turned to Grass Valley to equip two of its OB vans with 20 LDX 86N WorldCam cameras and 20 XCU Universe XF base stations. The equipment will be deployed for live events, concerts and various sporting events including football matches, horse racing and camel racing.
Cubic Productions and its systems integrator, Wise Concepts, chose Grass Valley's solution for the flexibility in the connectivity of the cameras. "It's where Quadlink 4K out can be offered as well as 12G, IP and HD from the same XCU unit. The LDX 86N WorldCam cameras produce native HD/3G quality and can be upgraded to native 4K UHD, HDR and high-speed acquisition with a GV-eLicense for the duration of the project without having to buy it permanently. The cradle concept of the XCU allows for easy moving of the cameras between different OB vans for outstanding flexibility and the highest utilisation," stated Fouad Hassoun, managing director, Wise Concepts.
Muder Abu Fashah, CEO of Cubic Production M.F.Z.E explains, "We selected the LDX 86N WorldCam cameras from Grass Valley because they offer the most technologically advanced quality for multiple formats. The cameras provide state-of-the-art picture quality and production flexibility, which is especially crucial for our sports productions. In addition, the cameras are software upgradeable, which means we can use all of our LDX 86N Series cameras at the same time in XtremeSpeed operation (6X super slow motion), when required."
"The LDX 86N settled the long debate, discussions and comparisons between alternatives, which simplified the decision-making process. This past year has been a great year of growth and we are already looking forward to a successful 2018 in which we are planning to equip two more OB vans with another 20 Grass Valley cameras," added Feras Hamdan, managing partner, Cubic Production.
The LDX 86N S eries is specifically designed for the most demanding live broadcast applications and together with the XCU Universe XF base stations, the LDX 86N cameras are able to meet all the broadcast requirements of today and tomorrow.