CVE focuses on the customer and the team as it celebrates 40 years in business
Communication Video Engineering (CVE) manufactures and sells audio, video and broadcast solutions, integrating products from major brands within its solutions. It is active across the entire supply chain, from design and sales to after-sales activities, training and maintenance.
As the company marks its 40th anniversary, CEO Luca Catalano speaks to Roberto Landini about its history, future plans and standout projects.
What traits historically characterise CVE and how have these evolved over the past four decades?
CVE was born 40 years ago with the name Comtech Video Enterprise. It was established by my father Carmelo Catalano, who placed values ​such as fairness, respect and sacredness of the customer at the centre of our being as a company.
The new CVE, with the company name Communication Video Engineering, proposes a generational change under my leadership based on a different mental openness; in fact, the company must continually innovate and renew in order to continue the long tradition of successes started 40 years ago.
My main internal commitment is to keep the work environment updated to make it pleasant, serene and functional. For me, work must be sober, serene and balanced, on a human level and above all as a team.
Since the change of management I have made many small changes for the group and for the people. I'm trying to give a lot of my attention to the team; there are people who were here for years, they left, but then they came back.
I am convinced that working well internally allows for a good balance externally, and I am sure that the market recognises this. In the past it was only the customer at the centre of our attention and everything else followed. The focus on our customer remains today, but the current vision tends to give a central position also to the company itself and its staff.
Together with the management team, composed of Mauro Contursi responsible for the Milan branch, Cesare Colaiuda in Rome and technical manager Luca Mancini, I am therefore paying close attention to the team, the group and the individual, and to the internal dynamics that allow each individual to grow in the team and the group to evolve, so that the customer can get better and better service.
What initiatives are planned in the short term and what are your medium- and long-term plans?
We have had a lot of initiatives creating many new activities and developments that will be more visible from January 2023. One of the new initiatives will be more focused on the product, rather than on systems and solutions, as is the case now.
We are always on the move, we are still expanding and creating another division to be even more proactive in terms of products. However, the basic concepts remain those that our founder instilled many years ago, so in the long-term the idea is always to continue to team up, inside and outside the company, with customers, suppliers, partners and also with competitors if necessary. We have no opponents, we prefer fair play.
Can you tell me about some of your most interesting installations in recent years in both sport and entertainment?
To give you an idea, let's just talk about those that happened in 2021, which was one of the best years ever for CVE. In the entertainment area, we created a large headend for broadcasting on digital terrestrial for Mediaset, which detached itself from its previous provider and created a new system based on Harmonic products and about 15 different brands.
Still in the entertainment area, CVE created an important set-up at the San Carlo Theatre in Naples, with Telecom Italia, which asked us to complete all the broadcast video infrastructure.
For sports we have carried out a development project towards M-ABR on the Telecom Italia CDN. At the time of acquiring the rights to football with DAZN, Telecom Italia had to make sure that it could rely on a CDN capable of supporting a high network load. The technology adopted, based on Broadpeak, allows for multicasting over the internet. We had already proposed it to Telecom Italia a few years ago and in 2021 the need arose to manage traffic in a different way. The entire project was completed in a very short time, thanks to the excellent work of the whole team.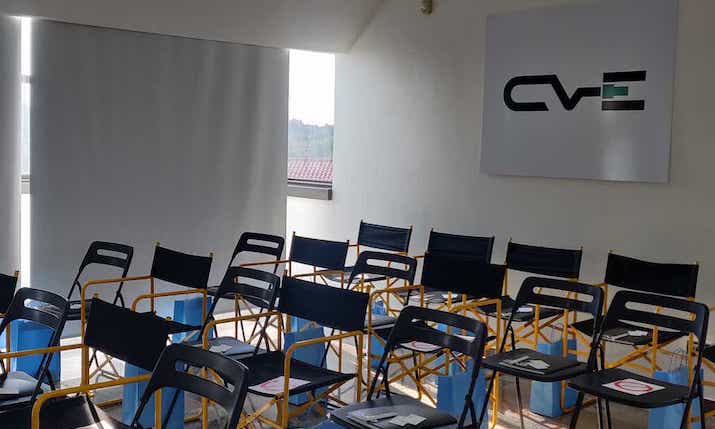 Two other prestigious installations in the sports area involved Comintek commissioning CVE to build the entire Helbiz Media infrastructure for distribution of Serie B. The second project was carried out in Lissone with EI Towers for the new Lega Serie A production centre.
Here too we integrated many brands (Imagine, Sony/Nevion, Dalet, Utah Scientific, TAG, Leader and many others) for a very high quality project and, as always, we were a supplier of ideas not just of technological solutions, because we also created an excellent partnership with our customer as well as with our technology suppliers.
For this project we created all the infrastructure that starts from the stadiums, carries the audio-video streams up to the IBC and allows live editing with the creation of clips during Serie A matches and then continues to the subsequent distribution of the content.
How did CVE become active in the sports broadcast market?
The concept of CVE in sports is closely linked to the IP domain, which I have been quite fond of since university, given that one of my last exams before graduating in 2000 was on distribution networks (I remember that at the time people started talking about IPv6).
In 2004 we started to talk seriously about IP at CVE, starting with the broadcast. I remember projects like Alice IPTV, or FastWeb TV made in the early 2000s and now, in the past decade, we have been talking more and more about IP in production too, thanks to the advent of the SMPTE-2022 and SMPTE-2110 standards.
All the concepts of remote production are based on this technology. We are therefore very specialised in the video-over-IP world and this has allowed us to be protagonists in sports installations.
All the services that we offer today – cloud, mirroring, remote production, etc – start from IP and from the ease of contributing live video at high quality and low latency from any place to any moment. The latter element is emphasised by the famous 'backpacks for shooting', mobile transmitters that we proposed 15 years ago when Aviwest was still a small company made up of a few people. Today, acquired by Haivision, it is one of the companies that offers this type of products that are among the best ever, with bonding technologies on unmanaged IP networks.
What other major revolutions has CVE seen in its 40 years of activity and how have they changed the way we broadcast sport?
We have talked about technical revolutions, but there is another non-technical revolution taking place – process management. To effectively implement the remote production processes that everyone talks about, especially in the world of sport, it isn't just about the technology involved. There is a complete change in the paradigm, in the mentality of the people who work there and in their working methods. We are facing a new way of working with constantly rotating staff, trying to keep operating costs as low as possible. This concept in an old-fashioned service is struggling to catch on.
In the past, the traditional way of operating involved always sending the same mobile vehicle to the stadium along with the same crew and the same crew chief. Today it is crucial to create structures that allow us to support a significant turnover of young personnel who must maintain high-quality results thanks to their preparation and the ease of use of the technologies enabling the creation of the product.
Which technological trends and ways of working are emerging that particularly excite you and which brands are most interesting to you?
These are the so-called 'enabling technologies', such as cloud, mirroring/remote production, IP.
For remote operations it has become fundamental to utilise super-specialised products, so brands like Sony/Nevion have become fundamental to manage and transport signals where we want them with super-fine quality and super-low latencies.
Then there are other brands such as Blackbird whose products allow you to work on a production plant residing in one place but with operators physically elsewhere.
Covid has accelerated this process and created an immediate need to work as if we were in the production centre, while remaining at a distance, even at home, but in a collaborative way.
We have created several projects (some with Sky Italy) to remote MCR or playout operation, using various different technologies that we represent in Italy. I am referring to brands such as TAG, which has proved to be decisive for local and remote monitoring, or TechEx, which simplifies the management of various live IP streams, or Emotion, which automates the normalisation and audio processing necessary for the creation of the correct television product.
More generally, I can say that companies that have many broadcast products in their catalogue and that look at how to develop their product in different forms (making it, for example, a cloud service in addition to a simple product), but without forgetting the fundamentals of broadcast, they are the most interesting partners for us.
What is CVE's vision for the future? How do you want the business to evolve and where do you see your company in five or ten years?
If the span of five or ten years seems a timeframe that is not too long, for our sector it is infinitely long. If we think about the speed with which our world changes and technology evolves, I would be a fool to say today that I know where we can go tomorrow.
I can only say that at CVE we are constantly moving and evolving to be ever closer to customers in specific ways based on the need for systems/solutions or products and, above all, having a team that can always work organically with the teams of customers and partners, with great technical competence.
Those who work with us do it for passion: I feel that we must continue to shape and modify ourselves to adapt to the new needs of the market and thus keep the passion in our team.
This is why we continue to focus on young people, as CVE has always done, but we continue to renew ourselves; in practice, we try to graft new dynamics on the solid framework created by my father, always based on the technical knowledge of our beloved world of television broadcasting.