DAZN: Mobile viewing popular but large screen TVs still reign supreme for watching live sport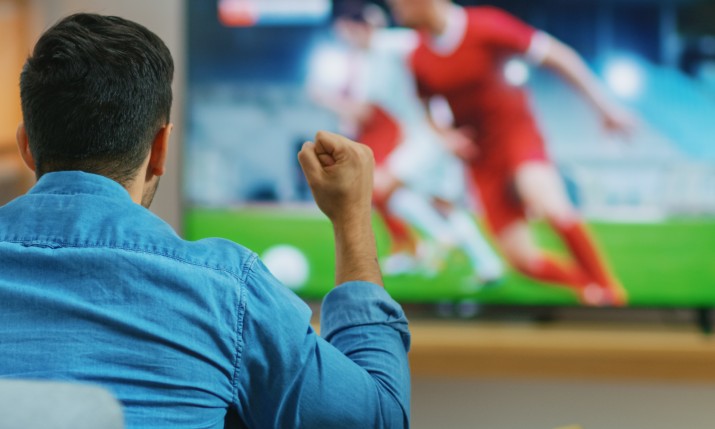 Watching live sport on mobile devices may be on the rise but it is still large screen TV sets that are the most popular medium when it comes to following the action on the field or in the ring.
That is according to 2019 data released this week by DAZN, the live and on-demand sports streaming service.
According to its figures, mobile viewing accounts for 26% of all subscriber consumption with set-top boxes (STBs) and streaming sticks on 23% and Smart TVs on 21%.
While the mobile devices come out on top, when you combine the 'big telly' streaming options of STBs, streaming sticks and Smart TVs, it is the large screen that is the most used device with 44% of viewers watching live sport that way.
If you add in games consoles, which are frequently connected to a big screen, that figure reaches 61%.
DAZN in 2019: Subscriber consumption by Device
Mobile: 26%
Set-top Box/Streaming Stick: 23%
Smart TV: 21%
Desktop: 17%
Game Console: 13%
In a statement, DAZN said that the figures illustrated that there is "still a preference among viewers to be able to enjoy sports on bigger screens where possible."
DAZN's figures also revealed a rise in subscriber consumption of its content with 507 million hours streamed last year, an increase of 98% from the 256 million hours streamed in 2018.
The heavyweight boxing bout between Anthony Joshua and Andy Ruiz Jr in December was the most-streamed event on DAZN during 2019.
The DAZN service is currently available in Germany, Austria, Switzerland, Spain, Italy, the USA, Canada, Japan and Brazil.
---
Top 10 most-streamed events on DAZN in 2019
Ruiz vs. Joshua II (7 December 2019)
UEFA Champions League: Tottenham vs. Liverpool (1 June)
UEFA Champions League: Liverpool vs. Barcelona (7 May)
Canelo vs. Kovalev (2 Nov)
KSI vs. Logan Paul II (9 Nov)
UEFA Champions League: Tottenham vs. Bayern Munich (1 Oct)
Serie A: AC Milan v Inter (21 Sept)
UEFA Champions League: Ajax vs. Tottenham (8 May)
UEFA Champions League: Barcelona vs. Liverpool (1 May)
Canelo vs. Jacobs (4 May)
Rankings are based on the number of live and on-demand streams per event of more than one minute.
Figures supplied by DAZN.
---