Ekstraklasa Live Park takes on responsibility for production of the Viaplay platform in Poland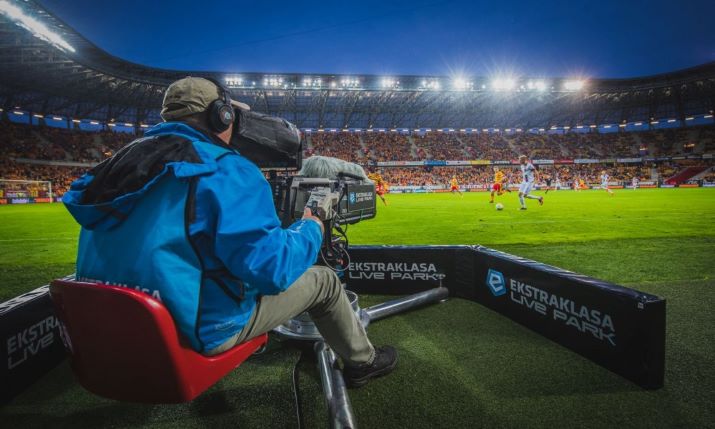 Ekstraklasa Live Park, the wholly-owned host broadcaster arm of the Polish Football League, Ekstraklasa, has announced it is now also responsible for television production for the Polish version of Viaplay.
Live Park has also prepared the television infrastructure for the production of Viaplay's sports programmes.
The project is carried out under an agreement signed with the sports production arm of Nent Group, called TV3 Sport.
Ekstraklasa Live Park together with ATM System built a studio, control room, and prepared all the technological facilities necessary for Viaplay to provide its Polish audience with high quality sports content.
A modern studio has been created in ATM's spaces in Warsaw. It consists of a total of over 25 meters of LED walls, high quality graphic systems, augmented reality (AR) solutions, and advanced systems for analysing football matches.
Comments Marcin Serafin, operational director of Ekstraklasa Live Park: "The set up also includes commentary facilities for Viaplay's Polish commentators. The headquarters of the Polish sports editorial office of the platform have also been established there."
Ekstraklasa Live Park delivers the infrastructure and technological solutions for the production, but is also responsible for the production crew, which supports the editorial team of Viaplay.
Said Leszek Miklas, president of Ekstraklasa Live Park: "Each season we produce several hundred matches of the Polish football league. We have modern equipment, technologies and experience that allow not only to follow the action on the pitch, but also to turn league games into real spectacles, giving viewers what they love sports for, and football in particular – emotions. Over the years, we have developed the competences of our team and invested in equipment. It is Ekstraklasa Live Park that was the first in Poland to buy a modern broadcast vehicle which allows to broadcast a signal in 4K Ultra HD quality. So far, few leagues in Europe produce TV content and signals at this level. In terms of technology, Ekstraklasa has one of the best and most interesting TV productions in European sport. We put this experience and know-how at the disposal of our partner, the Viaplay platform."
Adds Max Andersen, VP sport operation at Nent Group: "We are very happy with the production services provided by Ekstraklasa Live Park. Their technical solutions and production staff hold high standards in the market and I would also like to highlight their ability to find creative solutions for us as a customer. Viaplay has an ambition to deliver a high quality of studio productions to the Polish viewers and we are very happy with the start of our launch in Poland."
Ekstraklasa Live Park is a company that, in addition to the production of match broadcasts, coordinates many technological and media projects for Ekstraklasa, including cooperation with foreign broadcasters and the development of the Ekstraklasa.TV streaming platform. Cooperation with Nent sports productions for Viaplay as another major successful project showing the company's potential in cooperation with international partners.