EMG and Simply Live team for affordable remote VAR over public internet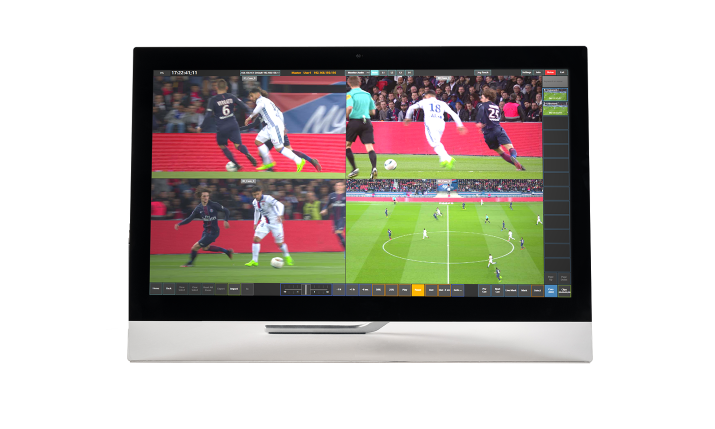 Euro Media Group (EMG) has launched a fully cloud-based video review solution for video assistant referee (VAR) with Simply Live. The new combined technology means that VAR match officials can work remotely from anywhere with internet access.
Spurred on by the COVID-19 pandemic, EMG and Simplylive have worked together to develop and deploy a cloud-based solution that combines the software development and operational deployment capabilities of both companies.
With latency at 0.5 seconds over the public internet, EMG has combined Refbox technology from Simplylive with bespoke and easy to deploy communication technology to enable the referee on the pitch to communicate easily with the video official room, wherever that might be.
Matthieu Skrzypniak, chief digital officer at EMG, told SVG Europe: "We did not wait for COVID-19 to work on remote production concepts, but COVID-19 is changing mindsets. More and more of our partners are actively looking for remote solutions to limit staff travel in order to cover an event.
"Although we have been working on technical aspects of remote production tools for a while now, we think that COVID-19 is a trigger that makes it clear for most organisations that they have to  seriously consider cloud workflows."
On how this technology development might change the way VAR is used in the future, Skrzypniak noted: "Most of the time, for example on a premium football match, there is a dedicated OB truck at the stadium with two or three people in it. There are also remote VAR rooms with expensive connectivity to be connected to the stadium. The solution we worked on is based on public internet; it will make this type of solution much cheaper [to produce] and the VAR will therefore be available to tier two and tier three federations, that can't afford [VAR as it has been made available over the last two years] today."
Hosted on Amazon Web Services, this solution offers flexibility of deployment and allows seamless, instant review of multiple cameras from anywhere in the world.
The solution includes a new generation of EMG's stagebox that encodes and transfers the audio and video signals to the cloud infrastructure on the internet.
"The reactivity is the same as on a local user interface," explained Luc Doneux, managing director at Simplylive. "Euro Media Group is a key partner for us and [these] type of remote solutions have never made more sense than during those uncertain times when movements are limited."
Skrzypniak, added: "Simplylive technology is perfectly adapted to cloud implementation. This solution will significantly change our approach [to] VAR because it will allow for completely different workflows where the referee can work remotely from any place with an internet access. As such, it is perfectly suited to simplified VAR implementation, and medical review."