Euro Media Group team production effort for the 2019 Universiade in Naples
The ability of Euro Media Group to design and implement services required for the broadcast chain in today's audio and video world was the technology operations heart that brought about the production of all audiovisual content for the recent XXX Summer Universiade thirtieth edition. The 2019 Summer Universiade involved 6,000 athletes from 118 participating nations, and took place in Naples last July.
The French company, with headquarters in Saint Denis, has a multinational reach thanks to companies in seven countries, France, Belgium, Netherlands, Germany, United Kingdom, Switzerland and Italy.
Three companies have been acquired to constitute the Italian team — EMG Europe, Netco Sports and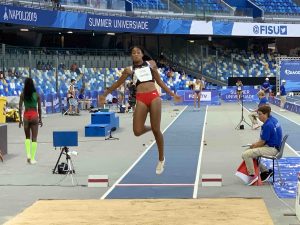 Global Production 3Zero2 TV — that together realised a 360 degree intertwining of skills. Netco Sports is the reference for graphics, the management of statistical data for analysis at all levels and a partner for digital solutions in new media acting as a bridge between the sports industry and the audience.
Global Production has been producing for 20 years, thanks to the latest technologies covering important productions of many types including international sports meetings, live events, entertainment programmes, TV and fiction, music and shows.
3zero2 TV is the Group's production 'rib' in Italy. It is renowned for over 15 years as a strategic partner for media producers, TV publishers of all sizes, international broadcasters and for companies interested in media production.
Here FISU, the International University Sports Federation, chose Euro Media Group Italy for the organisation of television production and the media installation. Distributed internationally, involving two official ceremonies in opening and closing, and the addition of 19 sports fields and game venues, for very heterogeneous sports and therefore very different filming, directing and organisational needs.
From eight to a maximum of 26 cameras were deployed to respond to the different complexities of each sporting event, showcasing the challenges in archery, athletics, basketball, diving, fencing, football, artistic gymnastics, rhythmic gymnastics, judo, rugby, sailing, guns and rifles, clay pigeon shooting & pit, swimming, table tennis, taekwondo, tennis, volleyball and handball.
For each of these venues technical and operational resources were combined by 3zero2 TV, Global Production, Videohouse, United and Netco Sports (all EM Group companies), as well as by several Italian TV services. Involving as many as 550 people to cover places of media interest as well, with filming and reporters, ENG troupe, press rooms, comment areas, interview stations, VIP areas and other corollary events.
Euro Media Group also took care of the technological heart, namely the International Broadcasting Centre, from which all the fibre optic connectivity activities were organised and managed through 1Gbit/s connections. These fibres transported the programme signals from sports venues for races, semi-finals and finals and two contribution circuits, the main and the relative reserve in HD-SDI Video 1080i/50 16/9 with embedded audio.
The television production TV compound created the international broadcast feeds in playout that were distributed to 12 countries. Simultaneously, ancillary services such as live streaming were created, along with special apps for mobile devices and ad hoc solutions for social media.
The Group, through Netco Sports, also managed all the graphics, in HD 16:9 format. These provided the official FISU lines and related broadcasting of scores, statistics, formations, official start and duration of the match and penalties etc.
Five days were necessary to implement the International Broadcasting Centre and the technical personnel involved which consisted of a production manager, a technical manager, an MCR operator, two EVS operators, and four for nonlinear editing.
For broadcast infrastructure, 16 programme signals were managed from the competition fields (matrix inputs with eight main and eight reserves), as well as six audio/video signals for delivery to distribution circuits (matrix outputs) and 12 audio/video signals (input/output) to power the recording and editing devices.
Among the many brands involved in this concentration of technology in the IBC were Tektronix for the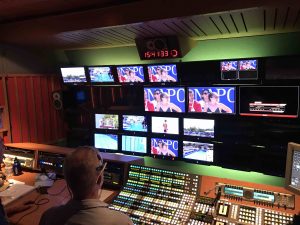 SPG and the syn /TC generator; GVG video router and Kaleido multiviewer system; Lawo VSM control system server and key/soft control panels; Ikegami and Wohler control workplaces audio monitor; Tektronix WFM monitor; VSM control panel; and a Riedel intercom matrix.
To manage all recording and the nonlinear editing, EVS XT3 server devices and remote panels were used, and for the realisation of replays, highlight, news feeds there were HP/Cisco 1Gbit LAN Switchers, with EVS XFile3 as backup/transfer, stations of nonlinear editing with Adobe Premiere Pro software, and a media storage system.
Other devices involved were high definition decoders from Harmonic, Aviwest Streamhub, and Elemental Live for live streaming. The connection with the satellite up-links positioned in the immediate proximity of the MCR equipment room at the International Broadcast Centre provided for the delivery of SMPTE 292-M SDI and ITU-R BT709 HDTV format signals.