European Championships 2018: BBC gives 'major event treatment' to inaugural multi-sport showcase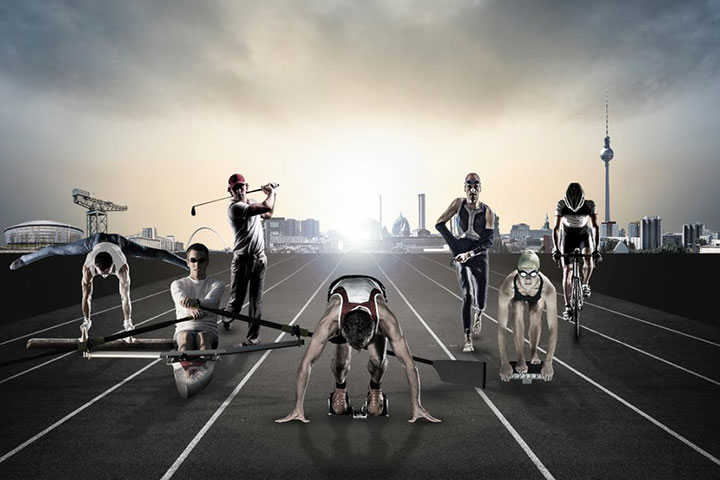 BBC Sport is giving the inaugural European Championships the 'major event treatment' as it switches on its coverage of the 2-12 August multi-sport competition.
The 11-day event, hosted by Glasgow and Berlin, is the first pan-European multi-sport competition of its kind and combines several competitions that were previously separate – the European Championships of athletics, cycling, gymnastics, rowing, swimming and triathlon – and adds a mixed-gender team golf competition.
Boosted by a line-up of sports that includes several in which Great Britain is traditionally very strong, the BBC is putting considerable effort into its coverage, bringing in high profile presenters Hazel Irvine, Clare Balding and Gabby Logan, and flooding its analyst roster with British sporting greats such as Sir Chris Hoy and Dame Jessica Ennis-Hill.
"Seven sports is a really manageable number. You get a chance to add context and tell the story."
More than 100 hours of network television coverage is planned for the Championships with 12 hours per day across BBC1 and BBC2.
"The big thing for us is to make it feel like the BBC is giving the Championships its 'major event' treatment," Ron Chakraborty, executive editor, Major Events at BBC Sport, told SVG Europe on the eve of the event.
"That is why we've got our big-name presenters and pundits in there. We're doing it so people realise that this is a big deal."
While there will be plenty of fanfare, he acknowledges that there is a bit of educational work to do too.
"We're aware that this is a new thing and you if you ask most of the general public what the European Championships are, they don't know yet. We are going to need to continually remind people that it is actually the existing European Championships for different sports combined together rather than a completely new event."
Unilateral elements
The EBU, and its subsidiary Eurovision Media Services (EMS), is acting as both the broadcast partner and the host broadcaster for the two-city competition.
The BBC will take the world feed from EMS and supplement the action with its own unilateral elements.
A BBC studio has been established in George's Square in Glasgow for presentation while BBC commentary teams will be based in the venues for each sport. BBC reporters and camera crew will also roam the mixed zones grabbing post-race reaction from competitors.
The corporation won't have presentation positions in the stadiums, however, except for Berlin where it has a platform for the athletics.
Similarly, it has opted not to work with an OB facilities provider.
"We've got a great studio with a lovely iconic view of the city of Glasgow," says Chakraborty.
"This will be the hub of everything we do. But we're not using an OB supplier. Instead, we're dry hiring kit for our operation and using host facilities at the venues. We're relying on bonded cellular technology for the mixed zones."
This set-up will give the producers "just enough capabilities to allow us to tell the stories of the various events and hear from the key athletes," he adds.
Clever scheduling
The events schedule for the European Championships has been designed specifically around the needs of broadcasters, allowing for what the EBU refers to as 'great storytelling opportunities'.
This should manifest itself in fewer sports clashing with each other and medals being awarded across nearly every day of competition.
According to Chakraborty, it is a format that "gives you a chance to put the individual sports into the spotlight."
"When you've got an event the size of the Olympics, where it's now up to 33 sports, inevitably you're going to get a dozen or more on at the same time so your coverage becomes a big fragmented as you try to keep people up to date with what is going on in different places.
"Seven sports, however, is a really manageable number and with the schedule that has been put in place you're not bouncing around too much and joining sport late. You get a chance to add context and tell the story. It allows every sport to have room to breathe but you still get the multi-sport element that gives you the feel of a major event."
"If you ask most of the general public what the European Championships are, they don't know yet."
With the weather set fair and Great Britain expected to do well, the only potential problems that the BBC Sport production team could face are organisational.
"The big challenge is juggling the sport on air and what you show when. But there's also the juggling of the logistics. If you just go to a European Championship for one sport, you've got your commentators, analysts, presenters and crew all in one place and they all travel at the same time to one venue, and are all there for the same amount of time.
"Here, you've got to work out a plan for seven sports, to get everyone from A to B and all the time using a studio operation which is separate again. We've created huge spreadsheets of who needs to be where and when. It's a real jigsaw puzzle."
Excitement and nerves
Ahead of the start of the European Championships, Chakraborty was feeling a mixture of emotions, both excitement and nervousness. But he's confident that it will be a great 11 days.
"The exciting part is that we've waited a long time for a European multi-sport event," he says.
"We've been waiting for something that brings together Europe in that way. It is very exciting from that point-of-view. The nervousness is that any time you do something for the first time you are never quite sure if it is going to work. You often make assumptions based on what happened at [previous events]. But there isn't a normal here This is the first time.
"We are constantly double checking everything to make sure we haven't assumed some facility or other will be there that actually might not be."
"What has helped," he adds, "is that the host city, Glasgow, has recently held a multi-sport event. A lot of the individuals from [the 2014 Commonwealth Games] are still involved. They have been able to put into practice what they learnt four years ago."
As for the fact that this is a sporting event taking place in Great Britain that features lots of sports that Great Britain excels at – and includes household British names such as swimmer Adam Peaty, triathlete Alistair Brownlee and cyclists Jason and Laura Kenny – well, that is just a happy coincidence.
"It's a very welcome set of sports but I can honestly say we had no influence," jokes Chakraborty.
The European Championships 2018 will be live across BBC TV, radio and online from 2 to 12 August