Europe's largest 4K HDR OB truck prepares to start its working life in Belfast
TVN Mobile Production's new top-end TVN-Ü6 truck, built in partnership with Sony, will go into production on 9 September for the Northern Ireland v Germany UEFA Euro 2020 qualifier in Belfast. It will be used for complex UHD, HD and mixed productions and is optimised for all SDR and HDR production standards.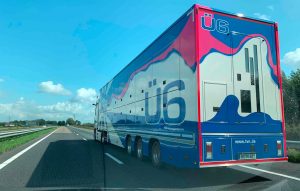 The layout of the vehicle, described by Sony Professional Solutions Europe as 'Europe's largest 4K HDR OB truck', provides two identical large production galleries, available for different clients, allowing them to simultaneously produce two large-scale live productions from one truck with 13 positions in each area and identical monitor walls. This is facilitated by a double-expanding coach design throughout the full vehicle length.
The room design also allows better communication between production staff, while providing 120 square meters of interior space, including 41 comfortable pre-configurable workstations when combined with its supporting tender.
Underpinning the new OB truck are two Sony XVS-8000 multi-format video switchers, featuring a total of ten native M/E's in UHD and up to 40 M/E's in HD, enabling simultaneous 4K and HD operation. The camera control room of the new vehicle accommodates up to 30 HDC-4300 UHD cameras, while Sony BVM-X300 4K OLED reference monitors offer image reproduction in the shading area.
The two independent control rooms each have 13 workstations. Dolby Atmos or 5.1 audio is available via a Lawo-driven audio area, and the truck can simulcast up to four main feeds and parallel hybrid productions in UHD and HD, HDR and SDR. Set and foreign connections over fibre are provided with a Riedel Mediornet network.
SVG Europe spoke with TVN managing director Markus Osthaus about the launch of the new truck, and we first asked him if the company's new vehicle will be displayed at IBC in Amsterdam.
"We would have loved nothing more than that, but since TVN-Ü6 is replacing one of its predecessors, the order book is already very full. The project builders did ask us if we could attend at IBC, but we knew it would not be possible. OB2 is being retired, and OB6 has to go straight into Bundesliga. But actually the first production will be in Belfast, for the Northern Ireland v Germany UEFA EURO qualifier on 9 September for RTL. We start with a pretty big one!"
Some OB providers are saying the days of building big trucks are overdue to remote production and fibre connectivity. But I'm guessing you will say that is not the case?
"If I did I would be silly! For small, cost-sensitive and cost-effective productions, you can definitely do these with remote production already. But for premium productions, I think that for at least the next 7-10 years you will still need big OB vans because the customer wants to be on-site. I still believe that when we are doing sports and concerts it is about emotion, and it's always great to have the director on-site so he or she can feel what it's all about.
"For the next number of years there are enough big events and we have positioned ourselves as a premium supplier for big OB vans. In ten years, maybe [remote production], when we are talking about 5G and all that kind of stuff. But do we know anyone now who would say as a customer, 'OK, we can do the Champions League Final as a remote production'. Yes from the technical side you can do it, but in terms of reliability and production safety, I don't know any customer like this."
OB6 could be viewed as two trucks rather than one, due to the identical production control rooms. The thinking there is to facilitate different feeds at complex events?
"In the case of large productions we usually have two customers on the OB truck (in Bundesliga, UEFA Champions League, UEFA European qualifiers, etc.). There is always a discussion as to whether national or international production is more complex and who is thus entitled to the privilege of the — so far — larger production area 1.
"Now that's over: we have two equal extra-large production areas, two galleries – and they are blue and
red so there's no discussion about which customer is more important. We do a lot of production like this where you have the national signal and the international feed. That was the thinking behind the design: we wanted the same perfect production conditions for both customers.
"I don't know of any other truck like this. When I first saw the design I thought 'wow, is this possible?' Let's think about it. Then we thought 'OK, this is a totally new way'. But we tried it and now we have reached our goals. What was also very important when we talked to the project builders was that we also wanted the perfect conditions in communication; we don't want the situation where our customers are sitting in one room and we can't see them.
"So when you look at the design, the audio engineer and the production engineer have full view to all customers in both production galleries. They can look in the face of the director. This was very important for us: we cannot only hear, over the intercom, but we can also see the customer so we can act and not only react.
"In the production galleries there are SonoVTS monitors: SonoVTS were the only company that could provide us with 49-inch UHD-HDR monitors. There was no other manufacturer on the market for these. In the shading areas there are reference-class 4K HDR monitors from Sony.
"The key companies behind the build were head of design Eddy Brants and project manager Steven Deschaeck from project builders.eu; the coach builders Carrosserie Akkermans; and Sony, who did the system integration in Basingstoke. These were the three relevant partners."
How have you configured the truck to produce both UHD and HD signal flows?
"When we had the first customer requests for UHD we looked at the English UHD market, where normally the UHD production is done and then downconverted in HD. We saw of course the problems UHD is still facing, like the motion blur. When you have motion blur in UHD and you downconvert, you also have motion blur in HD. For our customers like Sportcast in the Bundesliga, the HD signal is still the most relevant feed because 95% of customers are viewing in HD.
"So we tried to develop a workflow where the HD signal is not touched by any means. We have all the
signal flows from the cameras parallel in the router and the mixer, so the HD signal is at no point down- or upconverted. For the following UHD feed — only where you don't get parallel signals out of the camera like on the high speed cameras or in-goal cameras — the signal will be upconverted from 1080p to UHD. But the HD signal is never touched.
"That's pretty unique as you need more technology and more signals: let's say when you are producing for UHD you need the four 3G signals for UHD – and the HD signal. So, every signal you normally have in HD is five times."
This is not an IP-based truck. You decided not to go down that route?
"No. Of course there are lot of switches in there, a lot of IP stuff. But we decided that we still want to rely on the 3G SD-SDI standard, because we see from other installations – whereas of course IP is the way forward for the future – for now in terms of production safety and production reliability, for the OB van business it's still not there where we want to have it.
"For permanent installation like at TPC it's working, but as you know the OB van is driving across Europe on bad roads and there can also be problems at the venue. We are of the opinion that there are still too many issues and that the production reliability would go down if you totally rely on IP.
"And if you look at the OB vans that are mostly built totally IP, you get some information from the market that there are still issues. The next OB van will be IP, of course. But for now, it's better to have the good old stuff."
Tell us about your partnership with Sony Europe: for how long have you been working with them?
"In 2006 we switched to Sony [for cameras and vision mixers] and since then we have a really close partnership. We always have the feeling that the developers in Japan are listening when we tell them what is needed in the market. We find a lot of suggestions from our side in the product.
"That's why we made the decision to take Sony as a system integrator. One of our former trucks was
built with Sony and we were really satisfied with the work they were doing: so this time we were happy to discuss a package deal across system integration, cameras, vision mixers and monitors," said Osthaus.