EVS releases VAR white paper ahead of Football Production Summit session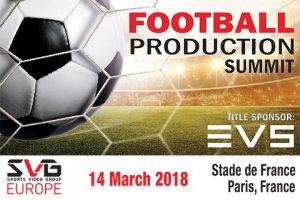 EVS has published a new white paper, A Guide to Successfully Deploying VAR for Professional football, with contributions from Mediapro's Nuno Manuel Silva Pereira and Marcin Serafin from Ekstraklasa Live Park.
Pereira and Serafin, along with Stephanie Dessart from EVS, will take part in a VAR panel discussion at SVG Europe's Football Production Summit Wednesday March 14 at Stade de France in Paris, moderated by Gert Zimmermann from Film Tools Consult.
Video refereeing in football is a hot topic and increasingly, more leagues and governing bodies are using it to reduce mistakes made by officials during a match. If used correctly, VAR technology will improve the sport for fans, players and referees.
This session will highlight what should be considered when deploying a VAR workflow, including the speed and precision of a system and how it integrates into existing live broadcast infrastructures. Using real-world examples, it will also look at the advantages and disadvantages of deploying a video operations room within an OB, stadium or media centre.
The eight-page EVS white paper covers topics such as 'Uses of a VAR', 'Who deploys the VAR?', 'How is the VAR operated?', 'Speed vs Accuracy – Striking the balance' and 'Integration with Live Broadcast'.
If you cannot attend SVG Europe's Football Production Summit in Paris and would like more information on the new EVS white paper, please contact Marketing & Communications Manager Sebastien Verlaine, s.verlaine@evs.com.