FFproduction, Manganelli capture coverage of celebrated Enduropale competition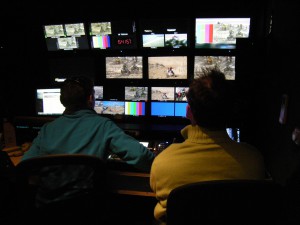 The legendary Touquet Enduro Beach Race (now renamed the Enduropale) gathers 1,000 bikers for a three-hour race that is held on beaches in Northern France. "This year we also broadcast the quad race that took place on Saturday," says Jean-François Petit, Manganelli events manager in charge of capturing the footage on behalf of FFproduction.
A total of 10 Sony cameras (including 9 HXC100s) equipped with different lenses (ranging from 86x to 22x) were used on the ground to cover part of the circuit. Most of the cameras were connected to the rack-mounted switcher via a triax connector, although two of them were wireless. One was used for the private feed and interviews conducted by L'Equipe 21 TV channel, which broadcasts live in France, and the other was used for the stands.
A Sony F5 camera was deployed for the super slow motion at 250fps. These images were recorded on one of the LSM servers in the Manganelli OB van.
"In order to cover the entire 7km circuit we hire the services of a helicopter equipped with a Cineflex camera. A 40m aerial lift holds the RX antenna and the system that tracks the helicopter. It also holds the RF transmitters for the broadcasting on the giant screens (equipped with receivers). The screens are placed at various key locations in the city," explains Jean-François Petit.
The RF technical methods were developed and implemented by a specialist company from Nantes, Sertel. Motors TV and other foreign sports broadcasters picked up the international feed produced by Frédéric Fiolet.
"Together with Novastream, a company specialised in live streaming that has an SNG van, Manganelli also wanted to be a partner of the event by taking care of the live broadcast on a dedicated Dailymotion page," continues Jean-François Petit.
In total, 35 people worked over the weekend to broadcast the event. Both FFproduction and Manganelli are in charge of the production and broadcasting of the Enduropale for a two-year period.